Are you trying to remote into an iOS device to view its screen remotely (no control)? If so, first make sure you have a trial or a subscription to the recently launched Splashtop On-Demand Support (SOS) with Mobile. If you have our previous Splashtop On-Demand Support (SOS) which has no mobile support, please contact our sales team to upgrade. Email sales@splashtop.com or call +1 (408) 861-1088 x125.
Requirements:
Splashtop Business app ()
iOS device needs to have iOS11 or newer
Steps: (Watch Video)
END USER installs the Splashtop SOS app () on the iOS device from the App Store
END USER opens the Splashtop SOS app on the iOS device and provides the 9-digit code to the technician
TECHNICIAN enters the code into the Splashtop Business app (click  button)
END USER 1-time setup, add Broadcasting button to Control Center:

Open Settings 
Tap on Control Center 
Tap on Customize Controls 
Add Screen Recording 

END USER follows the instructions in the Splashtop SOS app, to open Broadcasting and choose Splashtop SOS.

Double tap the home button on iOS device or 1-finger slide-up from bottom of iOS device (Control Center).  Note: iPhoneX is a 1-finger slide-down from top right of screen.
Tap and hold the record button until a popup shows (iPad and iPhone6S and earlier), or hard press on the record button (iPhone6+ or newer)  
Scroll and select "Splashtop SOS", then tap on "Start Broadcast". 

To end the support session

END USER taps on the "Disconnect" button on the Splashtop SOS app.
or TECHNICIAN clicks on the disconnect button or closes the window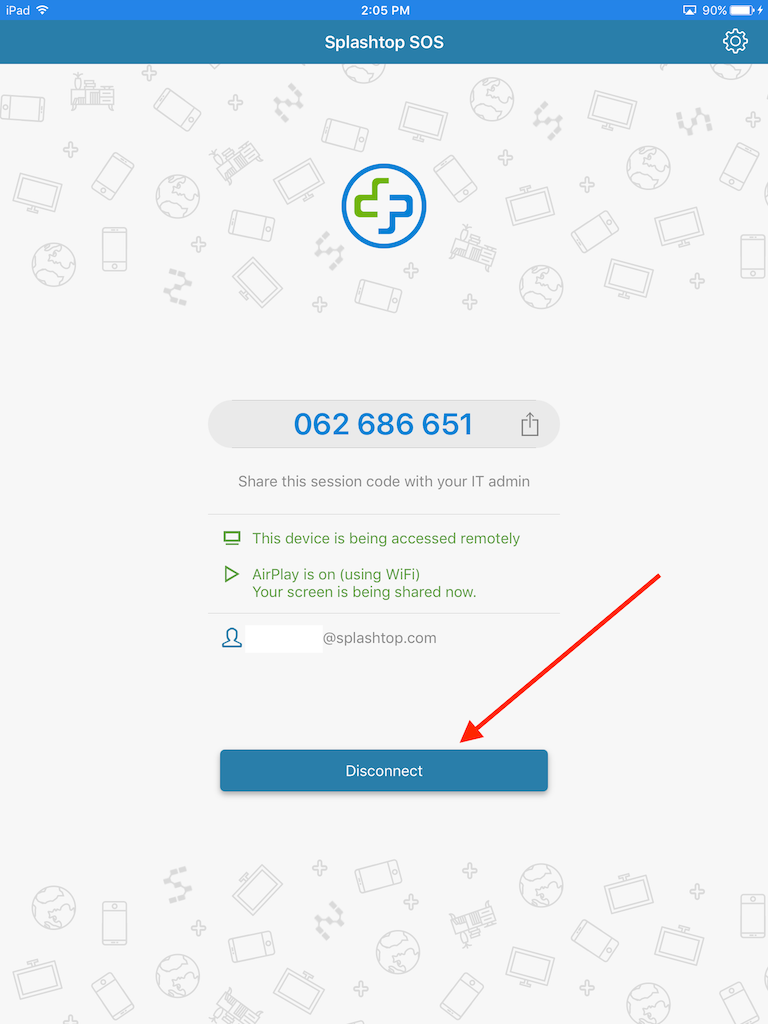 Note: Apple Screen Recording ends if an incoming call comes in.  You will need to restart the sharing.  It works fine for being in an active call, then start sharing.