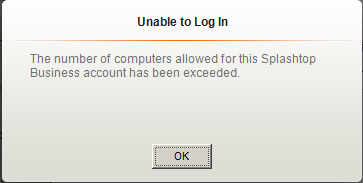 If you are seeing this message, then you are at the maximum number of computers for your license. 
For the Business Access service, each license is good for up to 10 remote computers, 3 licenses is 30 computers.  So, if you see this message, then you may want to add an additional Business Access license or consider converting to a Remote Support package (www.splashtop.com/remote-support)
If you have a Remote Support package, then you may be at the maximum computer limit for that package.  You can login at my.splashtop.com and upgrade to a larger package.  From the my.splashtop.com login, click on your name/email a the top right of the page and choose "Subscriptions".