The Splashtop Business app only needs a password for your Splashtop Account; that's the e-mail address used for registration on the Splashtop server when you first use the Splashtop Business app.
I. The email address or password you entered is incorrect:
Here are some possible reasons and solutions.
The Splashtop Account email does not really exist on our servers (maybe failed in last creation).
If you are sure your password is correct but get this error message, it's probably this case. Please refer to this link

to create a Splashtop Account again

. You can also use this as a test to verify if the email exists.
If you have ever reset the password for your Splashtop Account, please

log out, then log in again with the new password both

in the Splashtop Streamer and on the Splashtop client app side.
The password is

not the Security Code

used in the old Splashtop Remote Desktop v1.x.x.x.
If you're getting a message that says "Your security code is incorrect" or something similar to the below message, this is not referring to your Splashtop Account email and password. This is the security code set for the specific computer you are attempting to connect to. The security code is set in the Settings tab of the remote computer's Splashtop Streamer. Please see this article for more information.

II. Reset Password:
If you forgot your Splashtop Account password, or want to reset it for any reason, here are some tips that might help:
From the Splashtop Business app:
Click "Forgot your Password?" and you will be asked for your Splashtop Account email.
After you enter the account email, please check your e-mail account's Inbox to find the e-mail we sent you, and follow the instructions in that e-mail to reset your password.
From the MySplashtop console:
Go to https://my.splashtop.com/ and click "Forgot Password?" to send a password reset link to your inbox.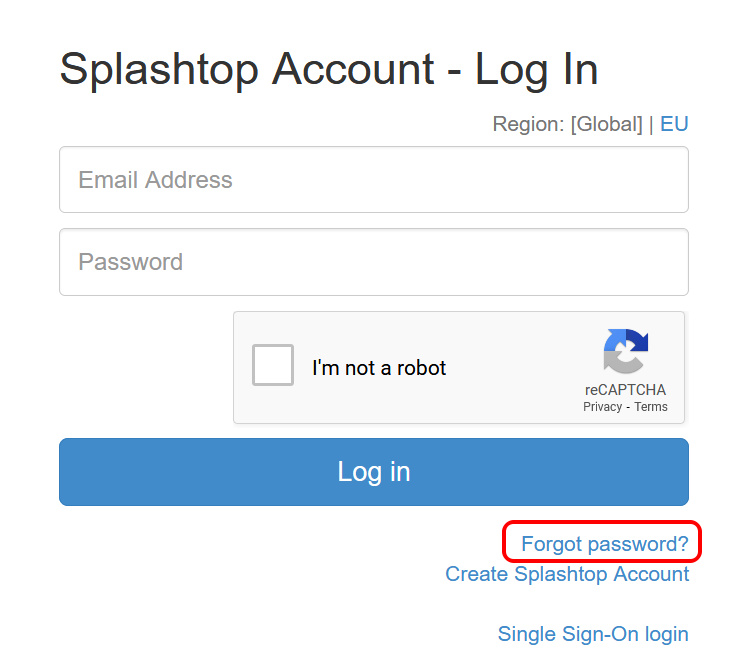 NOTE:
If you can't find this mail sent by the Splashtop server, please check your "Trash" or "Junk Email" folder, because it may have been filtered by your mail client.
If your account has any "Logged-in" streamers, they will be logged out when you change your password. See this article for more info.