If you cannot log in to your Splashtop Account on Windows XP running Splashtop Streamer, and get an error message like "Unable to reach Splashtop servers…", this is probably caused by the following reasons.
1) The computer system year/date/time is far off from the correct one. (If so, set it to the correct year/date/time.)

2) Possible certificate error caused by either one of the following two cases:
The certificate on your computer is expired.

The certificate on your computer is not trusted by our website.
For reason #2, please follow the instructions below for confirmation and correction. We have used the Microsoft Internet Explorer browser in our example illustrations below.

1. Confirm that the certificate on your computer is expired or untrusted. For example, if using Internet Explorer, go to Tools -> Internet Options -> Content tab (shown below) -> then click the Certificates button (indicated below).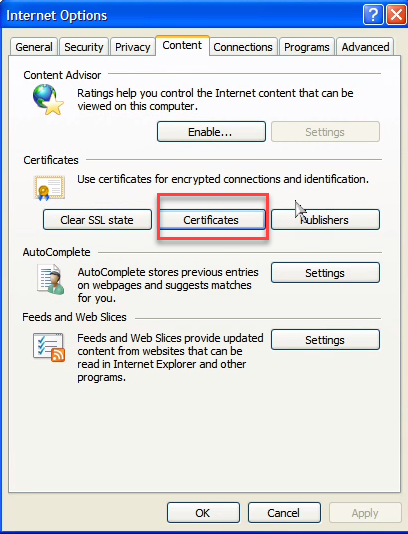 2. Display the Trusted Root Certification Authorities tab shown below, then search for the keyword "Go Daddy" to find the related value, and then check if it is already expired.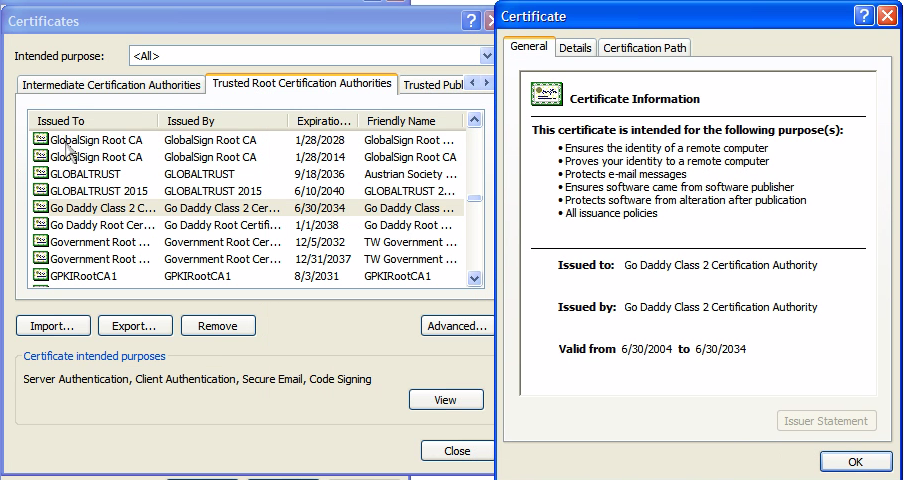 3. To correct the certificate error, first remove any Go Daddy Class 2 certificate in Trusted Root Certification Authorities.

4. Using any browser, download the following certificate: GoDaddy Class 2 Certification Authority Root Certificate - G2.
You can download it from the following links:
https://ssl-ccp.godaddy.com/repository/gdroot-g2.crt
or
https://www.dropbox.com/s/oba10nko9niftbf/gdroot-g2.crt?dl=0

5. After downloading the cert, click 'Install Certificate' or double click the downloaded certificate and choose 'Local machine' for the Store Location. Select 'Place all certificates in the following store' -> Browse -> Check 'Show physical stores-> Trusted Root Certification Authorities -> Local Computer -> OK.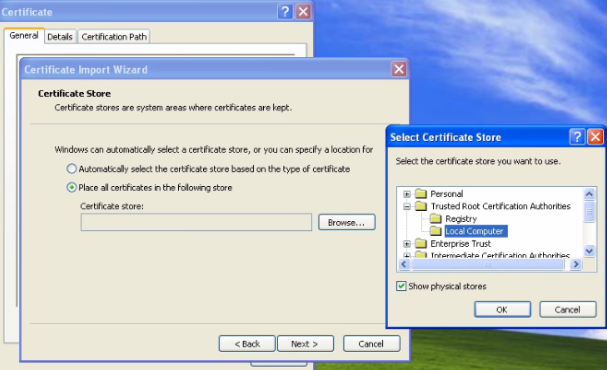 6. Reboot the computer. Then try again to log in on the Splashtop Streamer via deployment code or Splashtop account and see if it works.