The information below applies for the Splashtop x Bitdefender integration before February 2nd, 2023.
For information on setup for our latest partnership, Splashtop Antivirus powered by Bitdefender, see Splashtop Antivirus - Getting Started
Splashtop has integrated with Bitdefender to offer protection to users and networks from both online and offline threats.
Requirements:
Must have an active Remote Support (Basic, Plus, or Premium) or SOS+10/Teams/Unlimited subscription
Must have a Bitdefender add-on subscription
Must have Streamer v.3.3.0.2 + pre-installed
Currently available for Windows 10, 8.1, 8, 7, XP, Vista and macOS 10.7+, as well as Windows Server 2019, 2016, 2012, 2008.
The Remote Support Team Owner may purchase Bitdefender licenses through the Splashtop management console (my.splashtop.com) -> Management -> Endpoint Security.
***License quantities can be purchased in increments of 5. All subscriptions are auto-renewing and billed monthly in US dollars.
Once you have a subscription to Bitdefender, you MUST have Windows Streamer v.3.3.0.2+ installed in order to push out the installation for Bitdefender.
Also, before installing Bitdefender, please make sure there is no other anti-virus software installed on the target computer. You can follow Bitdefender FAQ in below link to remove other anti-virus software from the computer:
https://www.bitdefender.com/support/removal-tools-(uninstall-tools)-for-common-antivirus-software-1107/html
How to Install Bitdefender:
1. Select the computers you want to install Bitdefender on: Actions -> Install Antivirus software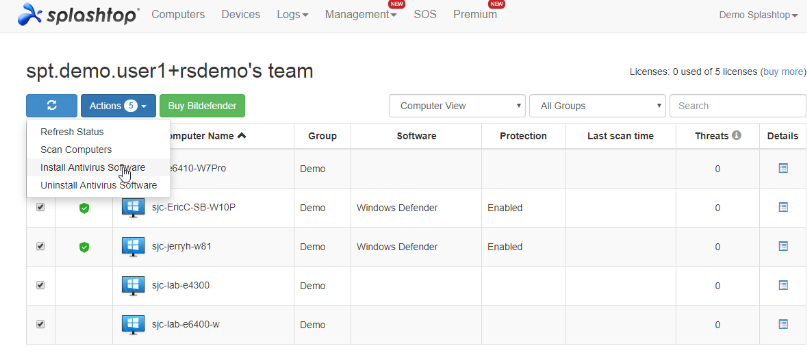 2. Choose a Bitdefender package that you want to deploy. You can decide whether or not to reboot before installation (recommended but not required).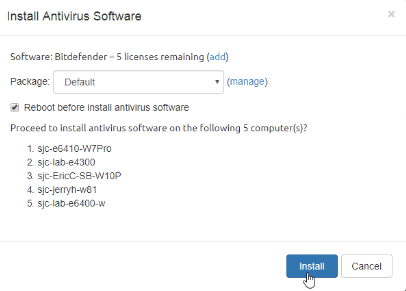 3. Once Bitdefender has been deployed, you will see the Status, Software, & Protection field updated. Note: It can take up to 24 hours to install.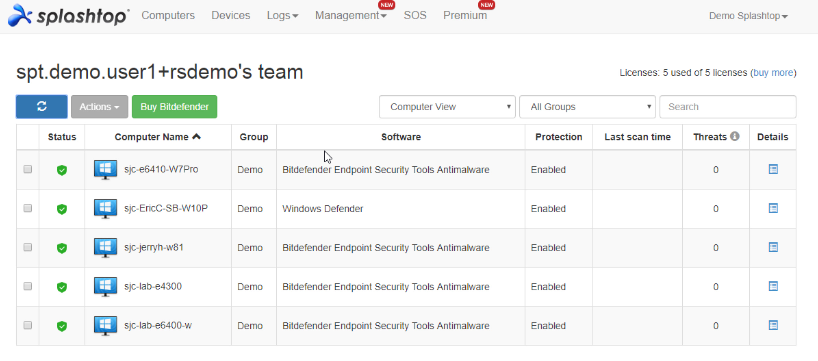 Bitdefender deployments are set to run daily quick scans and weekly full scans. You can also run the following types of antimalware scans on-demand:(checkbox computers -> Actions -> Scan Computers)
Quick Scan, which uses in-the-cloud scanning to detect malware running in the system. Running a quick scan usually takes less than a minute and uses a fraction of the system resources needed by a regular virus scan.
Full Scan checks the entire endpoint for all types of malware threatening its security, such as viruses, spyware, adware, rootkits and others