Review of Splashtop Team Settings
General
Team Name
This is the name of your Splashtop team users will see when invited to your team. This can only be changed if you are the owner of the team.
Current plan
This is the current subscription team (active or inactive subscription).
Computers(Available in SRS and Enterprise)
This is a count of how many computers have been deployed in the team. 
Users(Available in SBA)
This is a count of how many active and total users are on your team. This can only be changed if you are the owner of the team.
Technicians(Available in SOS and SOS+)
This is a count of how many active and total technicians are on your team. This can only be changed if you are the owner of the team. 
Feature Configuration
These toggles control various aspects of your team, which include feature usage, visibility options for members, and security protocols. All of the "Toggle on"(blue/colored) options will enable/disable for the entire team.
Enterprise
Allows for more granular control as well as allowing Admins to toggle these settings as well as the parent/owner account.
User configuration
Business Access
These toggles control additional settings for "Member" roles as "Admin" already have access to these interface options.
SOS
Toggle to have other technician view and manage other technician remote access sessions.
OOBE instruction(Only available in SBA)
Select if you prefer to instruct members on OOBE to download and install. For more information, click here.
Notification
Enable the ability to receive emails for certain aspects of your account, i.e. when a user accepts an invitation to your team, when a user leaves your team when a computer is added to your account, etc...
Security
Two-Step Verification
These options control if you want to force your members or admins into using Two-Step Verification, allow users to trust the devices they log in from, and disable device authentication when 2FA is turned on. 
Device Authentication
These control who the email authentications are sent to when trying to authenticate a Device or Browser.  (This feature is automatically turned off if a user has Two-Step Verification enabled.)
Browser and Application Timeout
This setting lets you log out users from the web console when they are idle for a certain amount of time. The different time options are: Never, 15 minutes, 1 hour, 8 hours, and 24 hours. Note: Setting takes effect upon next login.
Session Security
These security settings allow users to save any operating system login(Windows/Mac) and/or security code to input only one time per device.
Other
Additional toggles to show the username on the remote computer's logged in user and to setup notification emails
Third-party Integration(Only available in Enterprise and SOS+)
These settings let you set up API Keys for your third-party integration. Splashtop has integrated with ServiceNow, Zendesk, Freshservice, Freshdesk, and Jira. You can easily enable your technicians to remotely support your users using Splashtop SOS. For more information click here
Single Sign-On(Only available in Enterprise)
The Single Sign-On(SSO) integration lets users authenticate their Splashtop account using their centralized SSO user ID and password. You can click on "Apply for new SSO method" to get started. 
SCIM Provisioning Token(Only available in Enterprise) 
This setting enables users/groups to provision from their identity provider. We currently support SCIM provisioning and a secret token is required to be configured on your IdP portal. Please click here for more information.
Scheduled Access(Only available in Enterprise, SOS+(Remote Support/Unattended portion), and Remote Support)
This setting allows the owner of the team to choose the correct Scheduled Access Timezone. Please keep in mind that the timezone cannot be changed when a schedule is in place. As well as these toggles allow Members to have scheduled access capabilities just as Admins can.
Splashtop Business Access Team Settings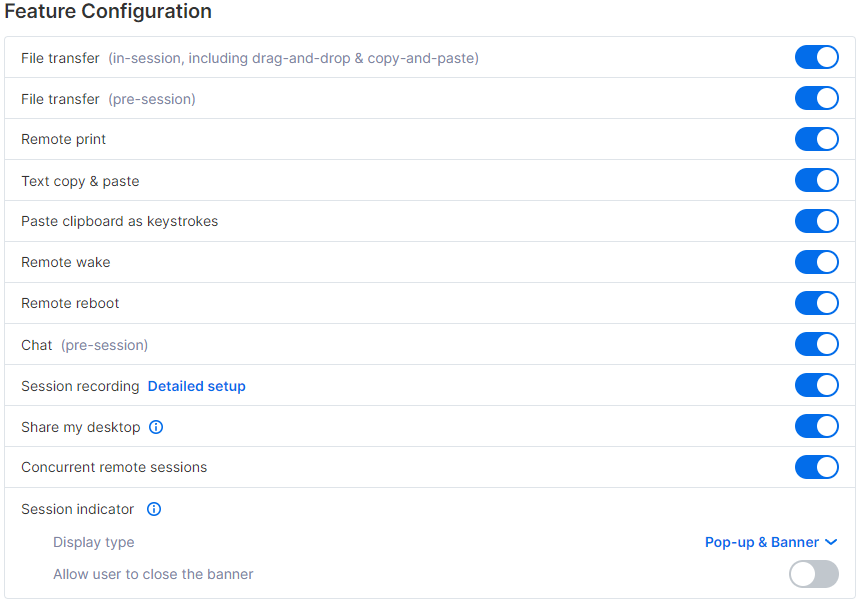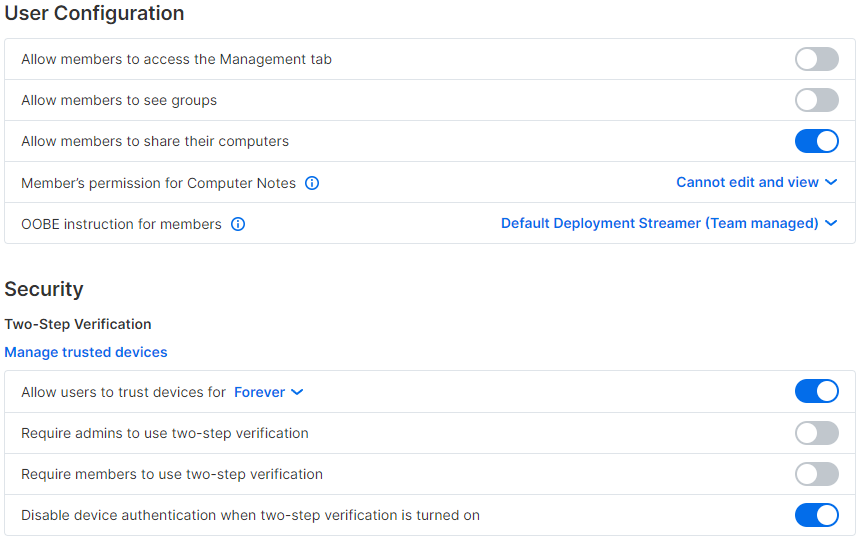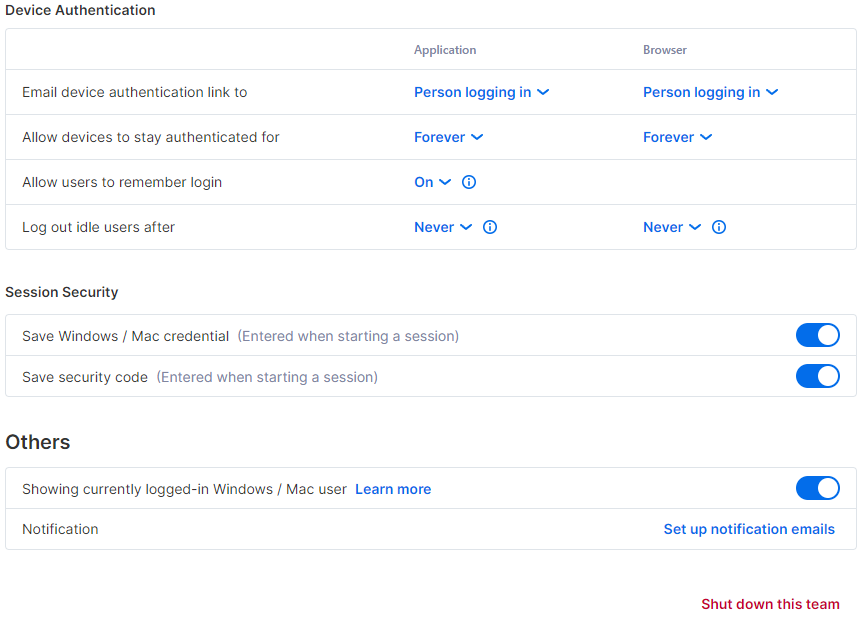 Splashtop SOS Team Settings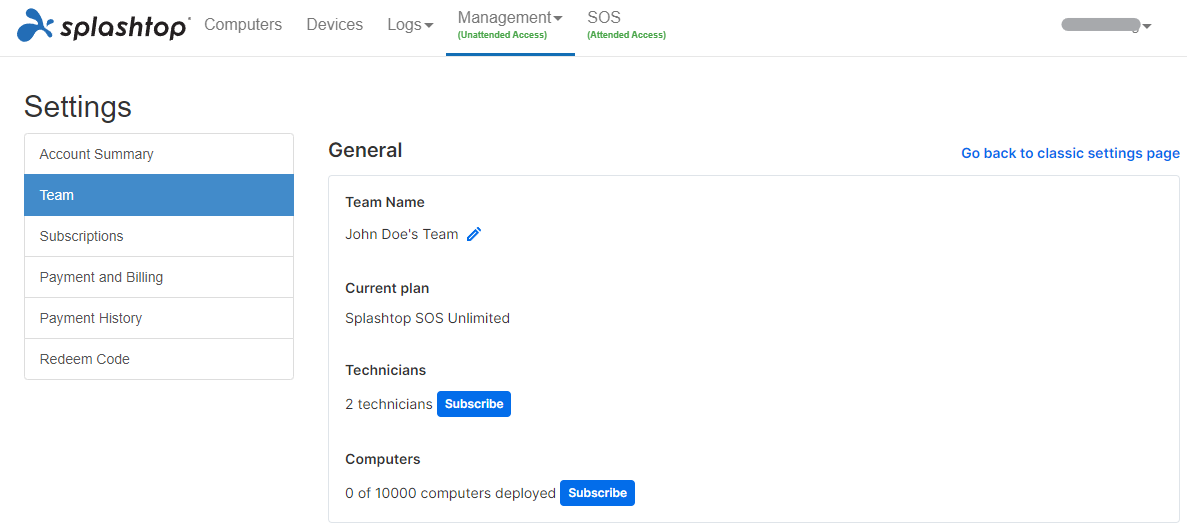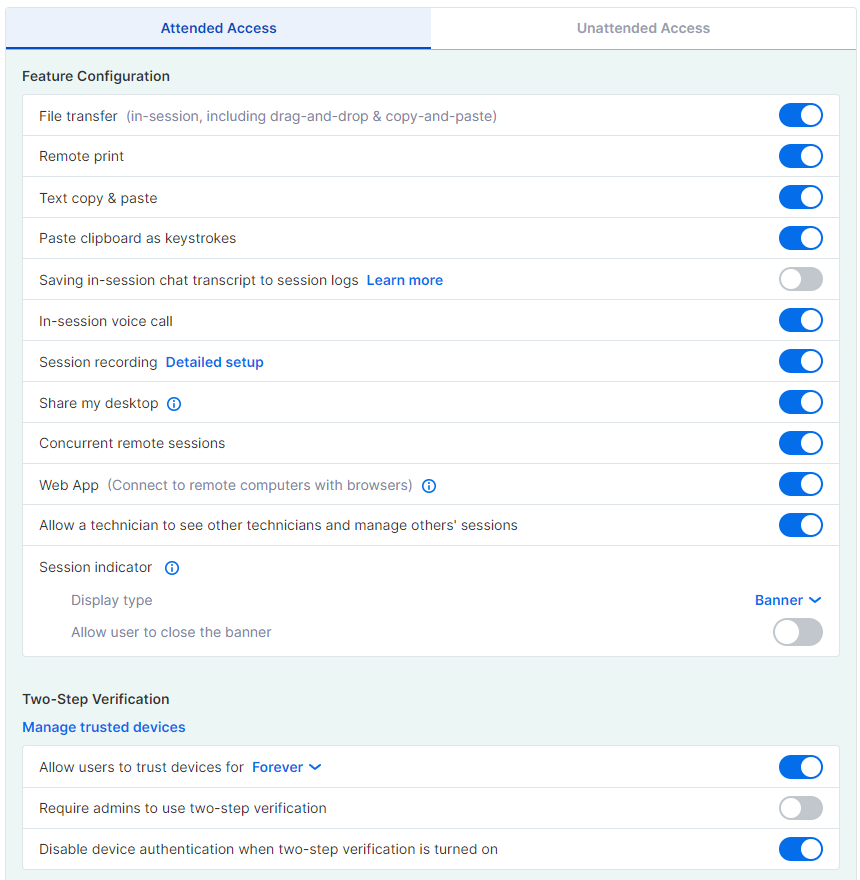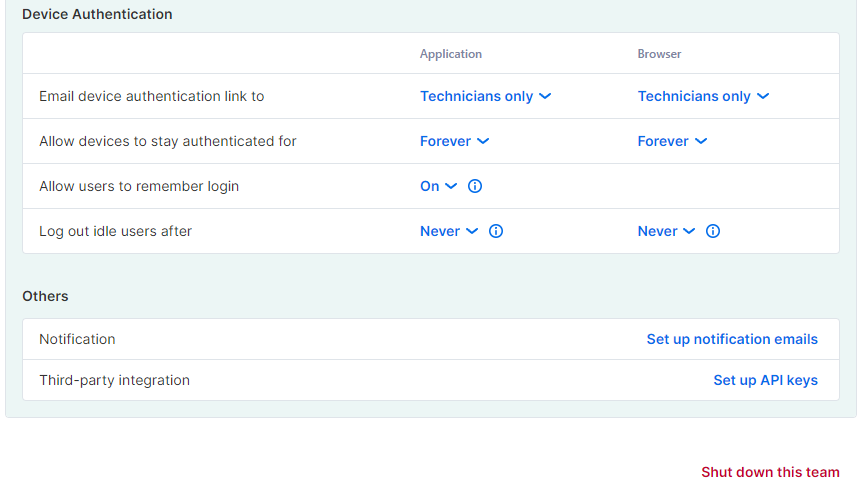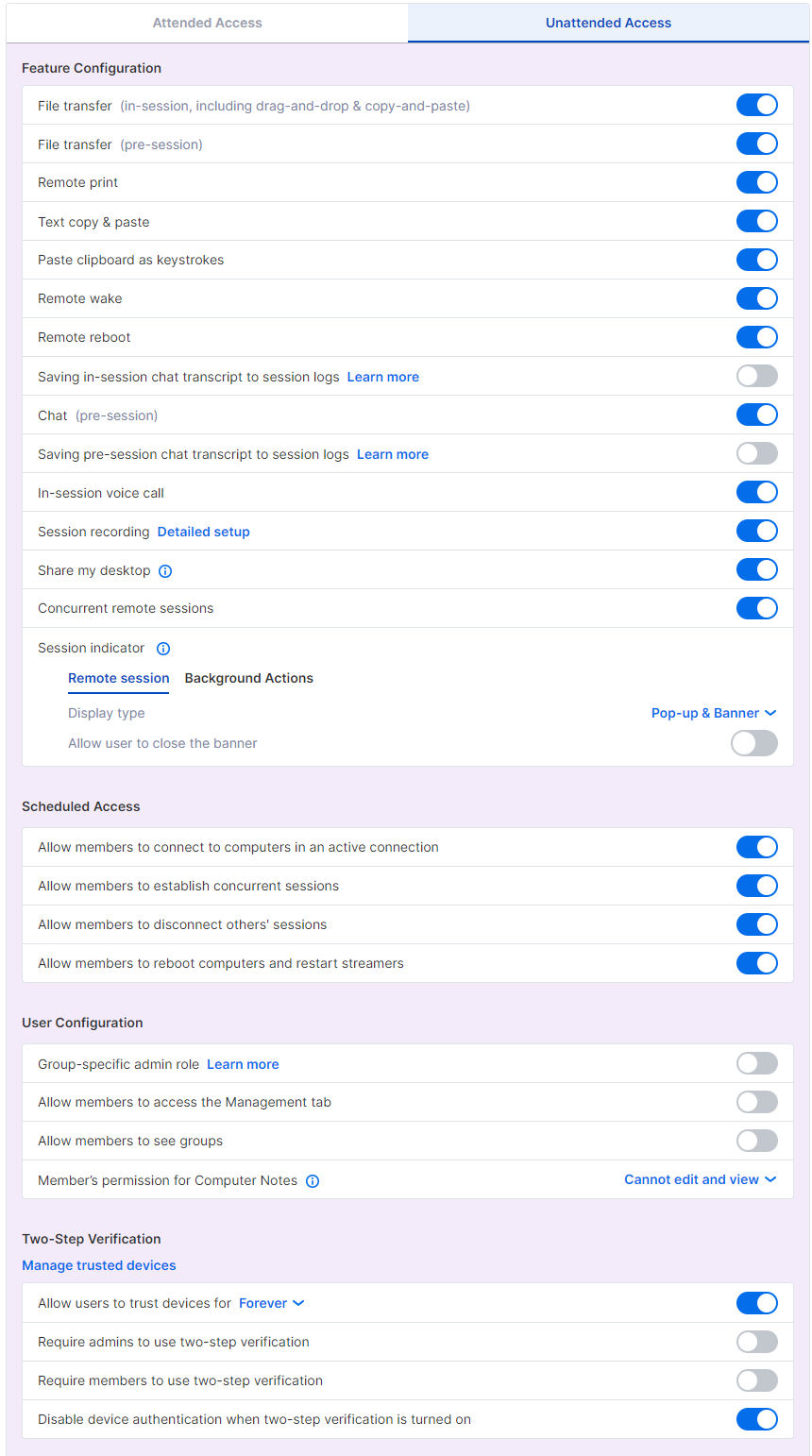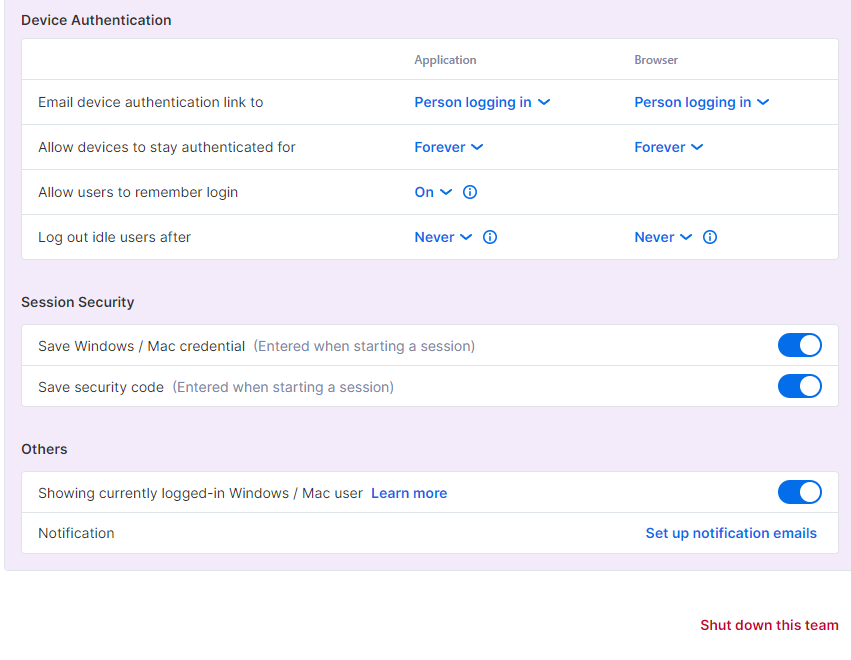 Splashtop Remote Support Team Settings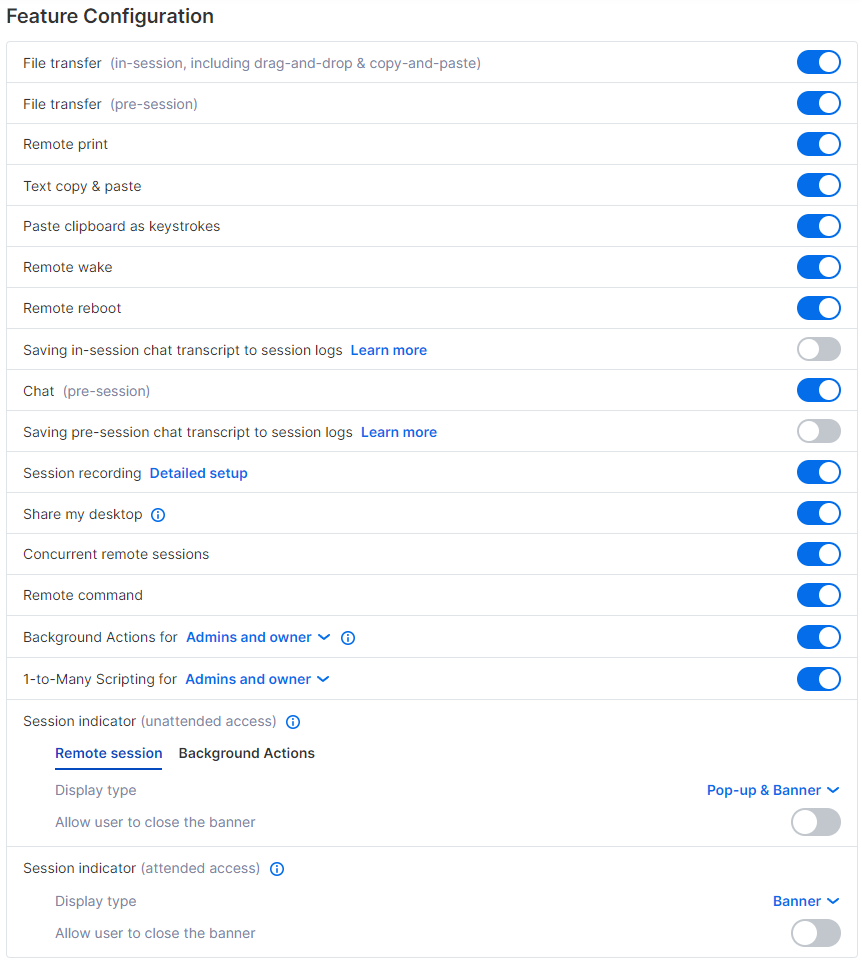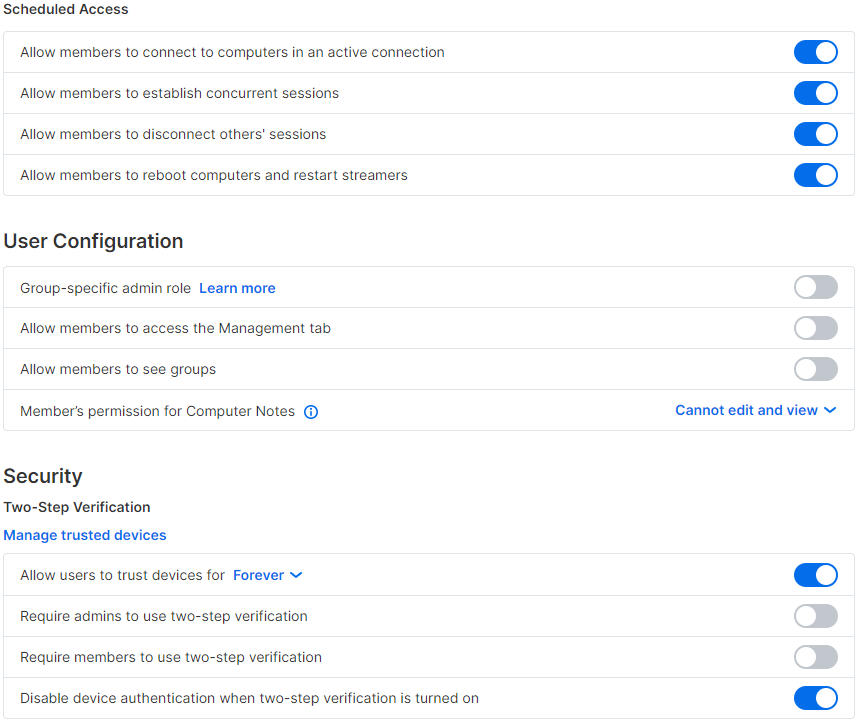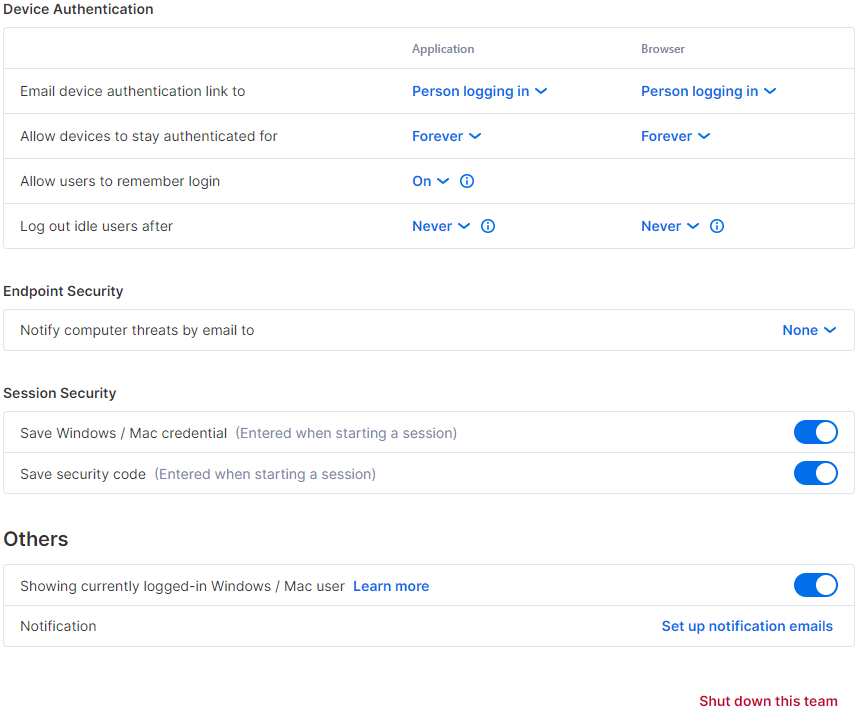 Splashtop Enterprise Team Settings