Splashtop now supports logging in my.splashtop.com / my.splashtop.eu and Splashtop Business app using the credential created from your SAML 2.0 identity providers. Please follow the below instructions to apply for an SSO method for your team.
Insert the IDP/OpenID connect configuration info
1. Go to my.splashtop.com / my.splashtop.eu with the owner account, then Management/Settings
2. Scroll down to find Apply for the new SSO method link.

3. Insert the required information:
A. Insert a name for your SSO method.
B. Select a the Protocol OpenID Connect.
C. Choose IDP Type.
D. Insert the corresponding info from your setup:
Global stack: Okta
E. Insert the whitelisted domains:
- the email address with the whitelisted domains can be invited using the SSO method or
- the existing Splashtop accounts on the team with the whitelisted domains can be associated with the SSO method.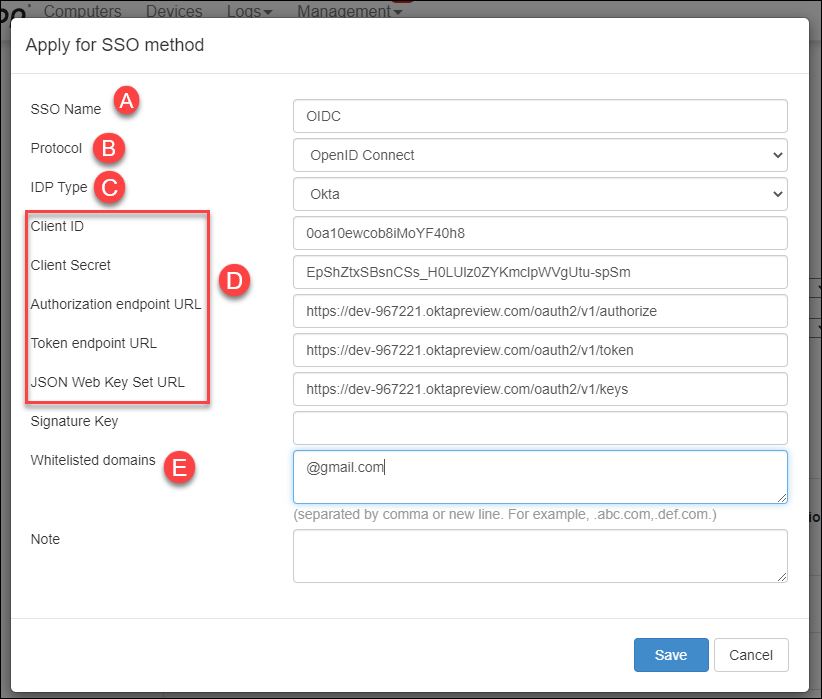 4. After clicking Save, the validation team will verify the info inserted, and also send you an email to verify the domain.
5. We will activate the SSO method after verifying the domain access. If you did not already receive a message on setting up a DNS record, please contact your account or sales representative to get this information.
6. After the SSO method is activated, on the same Single Sign On section, check the SSO method(s) under the "Status" column, you would like to enable.

You have the option to disable device authentication emails for each SSO method - just uncheck the appropriated SSO method under the "Device Authentication" column
You can make the default invitation set to a particular SSO method. Click the radio button for the appropriate SSO method under the "Default" column.
Note:
SSO login is supported on

my.splashtop.com

/

my.splashtop.eu

and Splashtop Business app (v3.3.8.0 or later).