When connecting/ logging into the business app to your Splashtop account from a Macbook, if you encounter the below error message, it is most likely caused by a network firewall or filter.
Splashtop Login Failed
"The certificate for this server is invalid. You might be connecting to a server that is pretending to be "st-v3-stb-src-mac-3440-g3.api.splashtop.com" which could put your confidential information at risk."

In this case, to login to the Splashtop business application, you can try the following steps below:
1. Try restarting your computer and see if you can connect from your business app.
2. If not, type in https://st-v3-stb-src-mac-3440-g3.api.splashtop.com/fulong/api/v3/echo in your Mac Safari browser. Click on the lock icon. Please see the screenshots attached.

3. Verify the web certificate status to check if it is valid.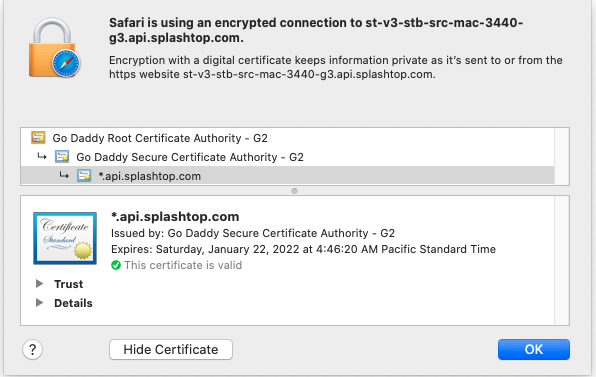 4. If it's invalid, you need to install the root certificate from Godaddy, which is the issuer of our web certificate, and make sure the root certificate is trusted.
Here are the steps on how to download and install the web certificate:
5. Navigate to Keychain Access. Search for the keyword 'Go Daddy'. Please see the screenshot attached.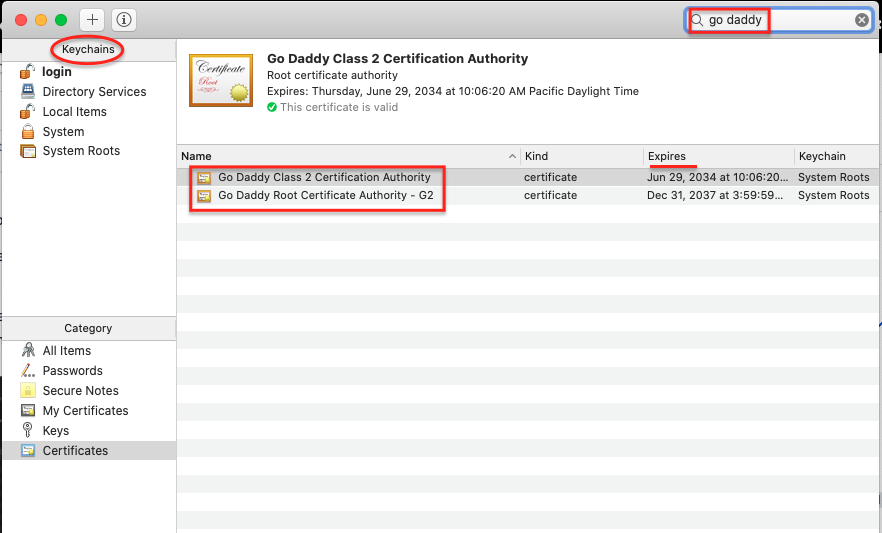 6. If it does not exist, you need to manually download and install the root certificate to the system keychain.
7. Please download the gdroot-g2.crt attached at the bottom of the article.
8. From the Keychain Access app, select File → Import Items… → Select downloaded gdroot-g2.crt
9. Double-click on the certificate, then select Always Trust on "Trust -> When using the certificate".
10. Try to log in from the Business app and see if you are able to connect.
If you are still unable to connect from your business app from your MacBook or have suggestions for us? Please open a support ticket.