The first time you successfully make a remote connection on your Android device, a Hints screen initially displays, which illustrates the various screen-control actions you can use during a Splashtop session. There are two different gesture modes: Touch Mode, and Mouse Mode. In touch mode, the position you touch on the screen triggers the action on the remote side under the exact position. In Mouse mode, it turns the Android device to work like a touchpad, you will see the mouse, you can use the touch area to drive the mouse to the target position, and when you do actions, the actions happen at the remote side under the position of the mouse point. 
How to change the mode?
You can change the mode from the in-session toolbar, and specify extra settings for that particular mode by the right arrow.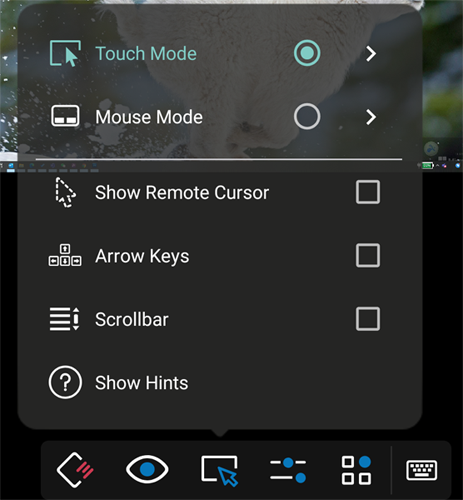 Touch Mode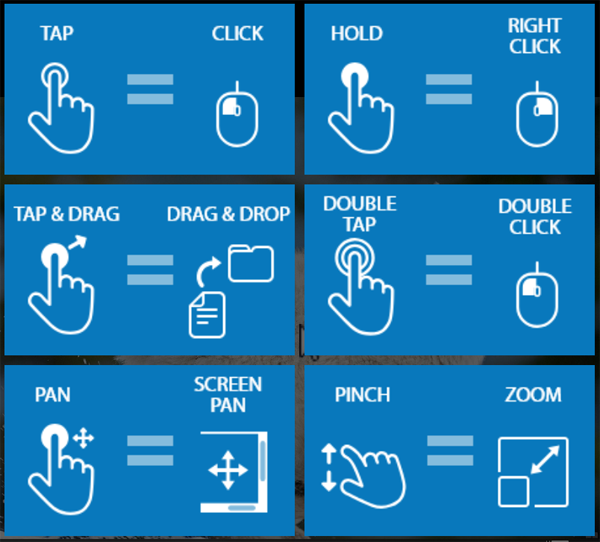 Unless otherwise noted, the list below describes Android tablet and phone gestures.   
點擊:等效於鼠標左鍵。
點擊並按住(長按):等同於單擊鼠標右鍵。
One-finger tap and drag: the one-finger tap-and-drag gesture can be used to select text, or to drag the scroll bar, or move files by dragging-and-dropping the desired files.
Double tap: Equivalent to double mouse click.
One-finger pan: Pan the screen.
兩指捏變焦:放大和縮小。
Extra settings for touch mode

One finger screen pan: turn on this option to pan the local viewport with one-finger pan. 
Remote pinch: turn on this option to send the pinch-zoom gesture transparently to remote computer.
Mouse Mode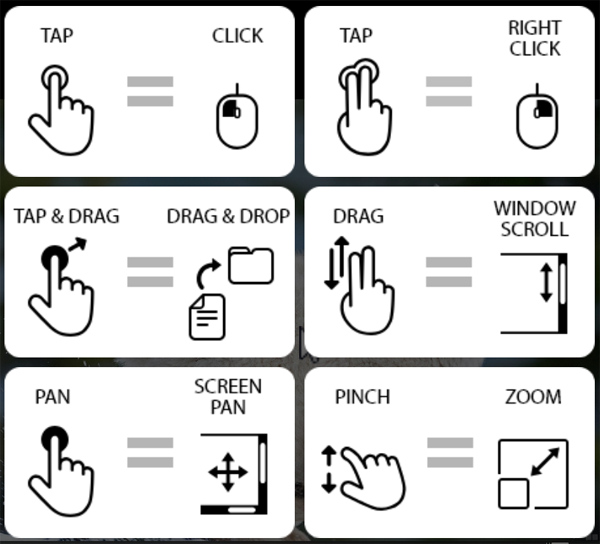 The list below describes the gestures in mouse mode. 
One-finger tap: Equivalent to left mouse click. 
Two-finger tap: Equivalent to right mouse click.
One-finger tap and drag: The one-finger tap-and-drag gesture can be used to select text, or to drag the scroll bar, or move files by dragging-and-dropping the desired files.
Two-finger drag: Equivalent to scroll remote content
One-finger pan: Pan the screen.
兩指捏變焦:放大和縮小。
Extra settings for mouse mode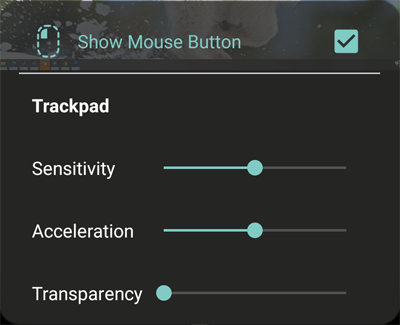 Show mouse button: Turn on this option to show the virtual mouse left and right buttons on the screen. The virtual mouse button position can be re-configured in session toolbar > settings > widgets layout 
Sensitivity: Change the mouse sensitivity
Acceleration: Change the acceleration
Transparency: Change the virtual mouse buttons' transparency