Version 3 of the Splashtop Business app for Android brings a fresh new design and many new features. This article provides a brief overview of the new features. If you are using version 2.x of the Splashtop Business app, we encourage you to try this new version and give us feedback.
1. New features
1) New layout for Computers, SOS, and Recent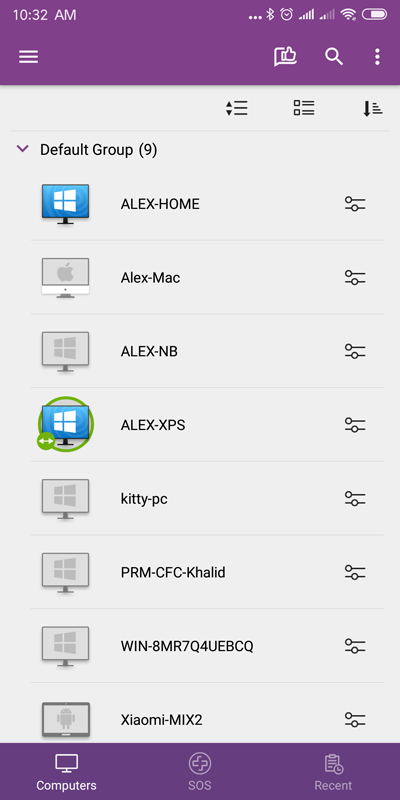 Splashtop Business app v3 structures three main elements as tabs across the bottom:
Computers shows all the unattended computers where you've deployed Splashtop Streamer that you have access permission to
SOS provides the interface where you can launch on-demand support sessions, if you have a subscription to Splashtop On-Demand Support (SOS)
Recent shows the remote session history in reverse chronological order
2) Computers tab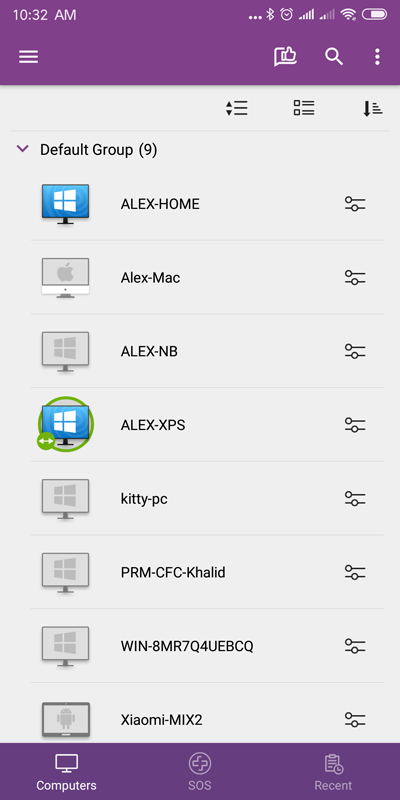 On the Computers tab:
These three filters enable you to specify computer grouping, ordering, and filtering settings to find computers more easily. You can also use the search feature to quickly find a computer.
Tapping enables you to view more details about the computer. You will also see various useful actions you can perform on the computer. See the following screenshots for some examples:



3) SOS tab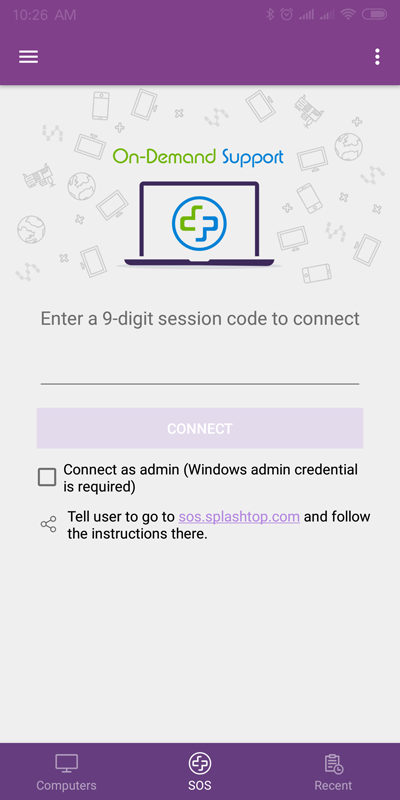 SOS tab is where you can easily launch an on-demand support session. Just enter the 9-digit session code from the user and click on "Connect".
Tapping "Tell user ..." will bring up Android share options to share the instructions.
Requires active SOS service
4) Recent tab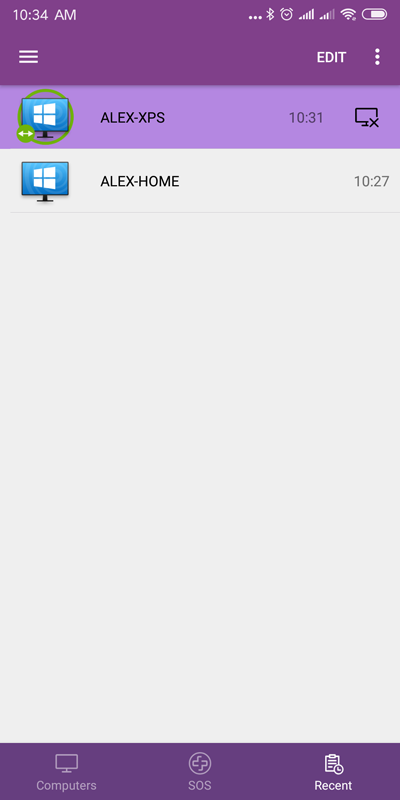 Recent tab shows your remote session history in descending order.
Splashtop Business app v3 allows up to 4 live remote sessions in the background. (You can keep a session alive by tapping on the toolbar in the remote session screen.). You can switch among the live sessions easily.
You can disconnect these live sessions directly from the Recent tab.
Live sessions in background will be cleaned up based on the rules in the "Run in background" option in app's Settings page.
You can re-connect to a remote session in Recent tab as well, just like in Computers tab. This is useful to quickly access again a computer you recently accessed.
You can clear the history in Edit mode (tap Edit to enter edit mode).
5) Multiple account support and switching
Splashtop Business app v3 lets you easily switch between multiple Splashtop accounts (if you have multiple accounts). The app can remember all the different account credentials, so it's a simple tap to switch.
Bring out the side drawer by swiping from your device's left edge. The drawer will show the "accounts" pane. Tap Sign in with another account to add a new account. If you already have more than one account logged in, you can switch among them.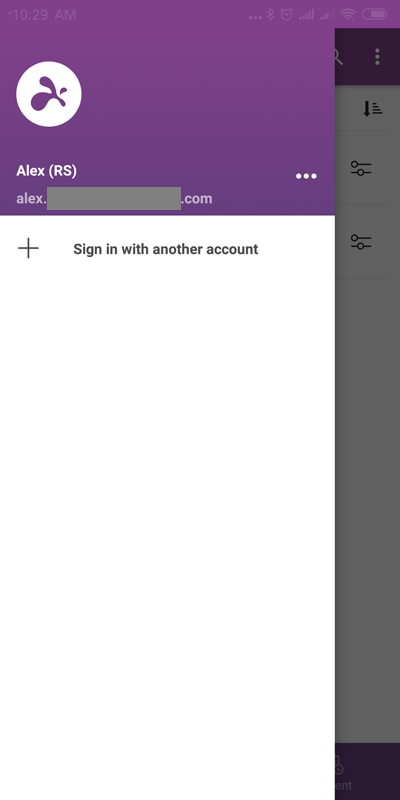 6) Key mode and Text mode for input
Splashtop Business app v3 supports two input modes in a remote session:
Key mode means your every key press on the keyboard will be sent to remote side, without additional local composition. This mode can be helpful if you are inputting password or want to leverage the remote computer's input method. This is the default mode in the v3 app.
Text mode means you can use the input method on local Android side for word suggestions, auto-correction, etc. The final composed text will be sent to remote side. This was the default mode in earlier versions of the app.
You can switch between these two modes by tapping the "configure" icon on the hotkey bar as follows: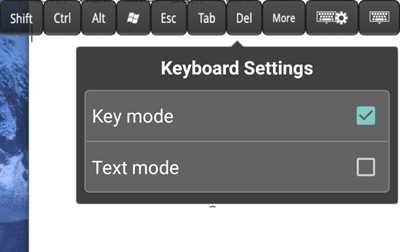 7) Multi-monitor support
Splashtop Business app v3 supports multi-monitor. If your remote computer has multiple monitors, you can:
Switch among those monitors, or
Show all monitors on the screen
Switch monitor icon

is available on the in-session toolbar.
8) New in-session toolbar
Splashtop Business app v3 has a new in-session toolbar design, with more functionality available: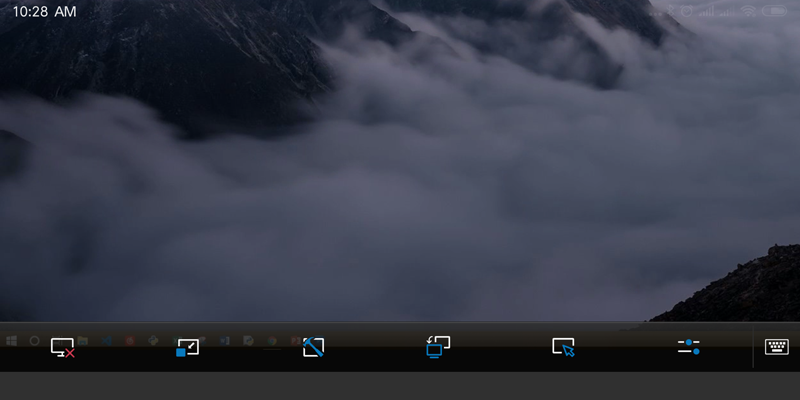 2. Feedback and Support
We'd love to hear what you think about this release and what we can improve. You can send feedback easily through the app's built-in feedback feature.
Thanks and enjoy!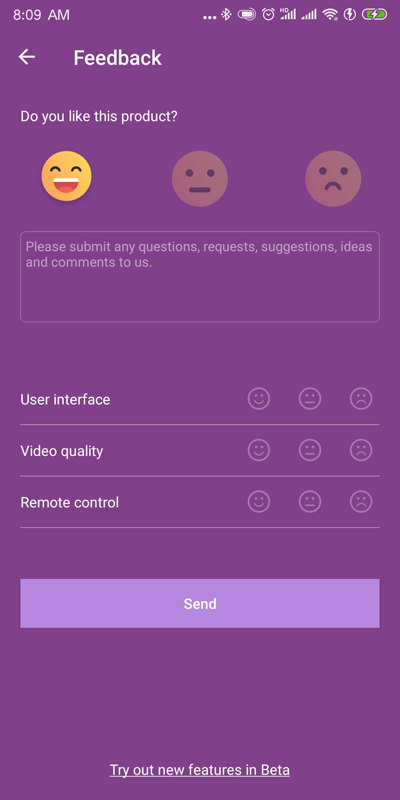 3. How to get the app?
Splashtop Business is available on Google Play Store, please download from:
https://play.google.com/store/apps/details?id=com.splashtop.remote.business