By logging in my.splashtop.com/my.splashtop.eu, user will now see the message showing "Splashtop Web console will end support for browser which does not compliant with Transport Layer Security (TLS) 1.2 by the end of 2021." (as shown below):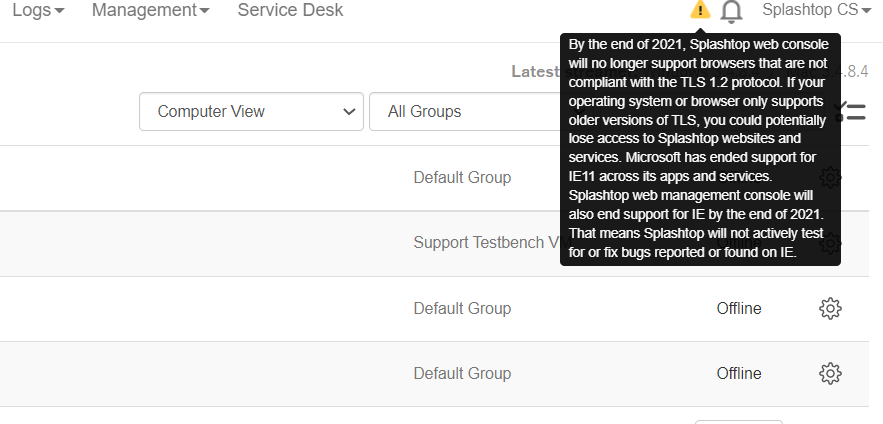 For the browser that does not compliant to TLS1.2, or the browser only support older version of TLS, user may lose access to Splashtop web console(my.splashtop.com/my.splashtop.eu), and cannot login web portal to manage users/computers etc.
If a browser does not support the newer TLS 1.2 version, user can either upgrade the browser or replacing browser with supported version.
However, the connections initiated from Business app to Streamer won't be affected.
Does my browser support TLS1.2?
Please refer to below for minimum browser versions that support TLS 1.2:
Browser
TLS 1.2 Supported
(Not enabled by default)
Enabled by default
Internet Explorer
Version 8
Version 11*
Microsoft Edge
All Versions
Google Chrome
Version 29
Version 29
Mozilla Firefox
Version 23
Version 27
Safari
Version 7

Version 7*
*Microsoft has ended support for IE11 across its apps and services. Following Microsoft announcement, Splashtop web management console will also end support for IE by the end of 2021. End of support means that Splashtop will not actively test for or fix bugs reported or found on IE thus only part of services may be available on Splashtop website.
*For Safari version below 12, due to technical difficulties we don't guarantee full support for Splashtop website and services.
How to enable TLS protocols on older browsers
If you are running an older browser, you need to enable the browser's TLS 1.2 protocols by following the instructions below.
Microsoft Internet Explorer
Open Internet Explorer
From the menu bar, click Tools > Internet Options > Advanced tab
Scroll down to Security category, manually check the option box for Use TLS 1.2
Click OK
Close browser and restart Internet Explorer
Google Chrome
Connections go through Chrome are automatically negotiated at the highest grade.
If you are using Google Chrome version 29 or above TLS 1.2 is automatically enabled.
Mozilla Firefox
Open Firefox
In the address bar, type about:config and press Enter
In the Search field, enter tls. Find and double-click the entry for security.tls.version.max
Set the integer value to 3 to force protocol of TLS 1.3
Click OK
Close browser and restart Mozilla Firefox