(Please note that when remotely connecting to a Windows 10 version 2004 machine, Enable Blank Screen option will not work to blank the remote screen, no matter with the default and workaround solution. Our engineering team is working on the new solution which should be available soon.)
With the new technology to blank the remote screen, there is not a driver installation needed and it will work in most of the cases, except for some limitations listed as below.
On

Windows 10 v1903

machines, a system reboot or display change (e.g., change resolution or disable/enable display) might be needed before it can work.
Will not work on some computers with

gen 1 or 2 Intel CPU

which still with

HD graphics.
Will not work on some computers with a monitor connected using a USB port (e.g., USB to VGA switch), installing the driver of the switch might resolve the issue.
When connecting to a computer which just woke up from Hibernate/Sleep state, it will not work at the first connection. It should work going forward.
Switching Windows users or logging off/in a Windows user during a remote session will turn the remote screen on then back off again.
Some display auto-adaptation software might turn the remote screen back on, e.g., f.lux, Asus Splendid Eye Care (a built-in software with Asus laptop).
Workaround
Still not working with Windows 10 version 2004 machines.
Only work with driver's WDDM model = 2.1 or earlier.
How to check WDDM version:
Run dxdiag.exe on the streamer computer, then check the Display tab which will indicate the Driver Model.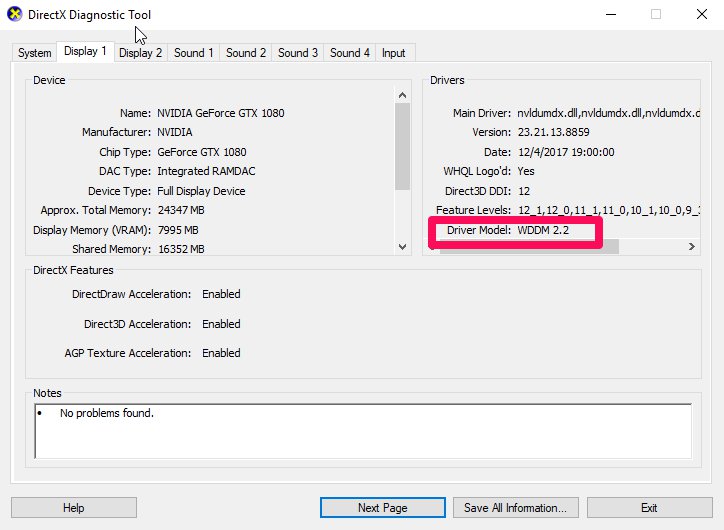 By checking Enable Blank Screen option on the streamer / Security tab, it should work to blank the remote computer's screen when in a remote session in most cases.
If it does not work, please follow below instructions to apply a workaround.
Go to the streamer installation folder, then Driver/Monitor folder:
C:\Program Files (x86)\Splashtop\Splashtop Remote\Server\Driver\Monitor
Right click on the install bat file, then run as administrator.
On 32bits computer, please use install_driver.bat,
On 64bits computer, please use install_driver64.bat.
That's it!
Note:
For Splashtop Enterprise users, please download the attached file below (DPMS_STE.zip), unzip it then run install_driver.bat (install_driver64.bat for 64bits OS) to apply the workaround.