Overview: Each person currently has their own account with an active Splashtop Business Access subscription or trial and needs to shut down their account so that they can be invited to yours. The streamers on their computers need to be reinstalled with the installer from your account so that their computers will show up in your account and access permissions can be set for them so that they can each see and access their own computers while you can see and connect to all of theirs if you want to.
Where can I find the Streamer?
The streamer installer link can be retrieved from our web portal at https://my.splashtop.com and logging in with the parent/owner account.
Once logged in, click on the blue 'Add Computer' button which should be under the tab 'Computers'.
If there's a shared drive that's accessible from all of the computers then you can download the installer using Option 2: Download Installer (Management->Deployment->Deploy) and then put the installer on the shared drive once it has been downloaded.
If your organization doesn't use a shared drive, then you can grab the shareable link using Option 1 and send it via e-mail to everyone. Option 1 can be found under Management -> Deployment -> Deploy -> Shareable link.
How to shut down the user's previous team?
Each person has to shut down their own teams so that they can be invited to the new parent/owner account (it's advised that they do this when their streamers have already been reinstalled with the one from the parent account; the parent account holder DOES NOT need to complete this step):
Login to the web portal at

https://my.splashtop.com

with your account.

Hover over 'Management' and click on Settings.

Click the link at the bottom right that says 'Shut down this team'.
Once they've shut down their teams, that'll cancel their subscription, too.
How to invite users via the parent/owner account through our web portal:
1. Log into parent/owner account -> Management -> Users -> Invite Users and then enter their e-mail addresses separated by commas or by pressing the return key for a new line)
*NOTE* If you are getting the error in the picture below then it means the user you are trying to invite is still part of another team. Please ask them to "leave the team" before you can invite them.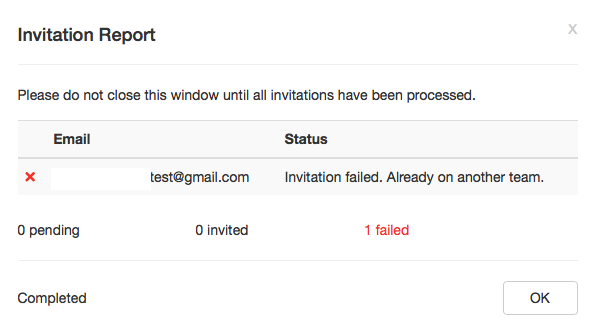 Once the users are invited, you'll need to set access permissions for them but the access permissions can only be set once their streamers have been reinstalled and also they've accepted your invitation.
Here's how to set access permissions (you'll want to select the third option: Allow access by specific Splashtop IDs and check yourself and the specific user and press 'Confirm'):
https://support-splashtopbusiness.splashtop.com/hc/en-us/articles/212725223-How-do-I-configure-who-can-access-which-computers-Splashtop-Business-Access-only-
Please go through every step above and if you still have questions, please reach out to the Splashtop Technical Support Team:https://www.splashtop.com/contact-us