This feature is available for:
Business Access Pro
Business Access Performance
Remote Support
Splashtop Enterprise
Splashtop SOS+10, SOS Unlimited, SOS Enterprise (unattended)
On an unattended access team, the team owner can grant specific users the privilege of user management and team settings management by applying this feature.
Need to enable these privileges for the SOS attended access team? View this article here.
Please see instructions below to enable and use the feature.
Enable Super Admin feature
Log into

my.splashtop.com / my.splashtop.eu as the team owner.
Go to Management > Users
Click the Gear icon of the user profile you would like to modify.
Select Change role.
Select Super Admin.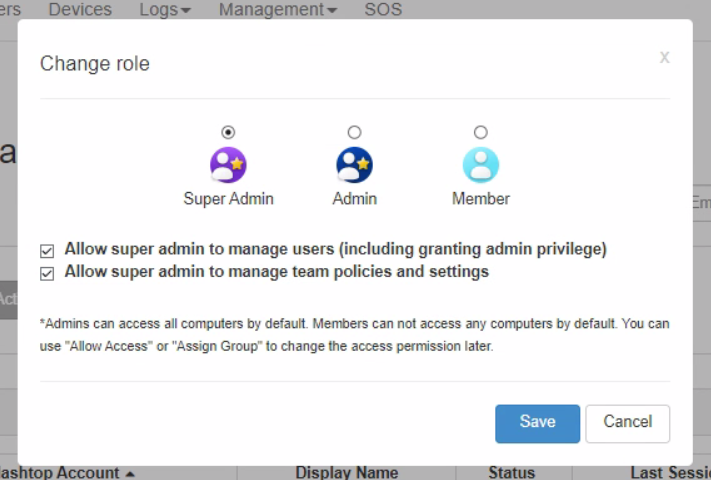 User role will become Super admin after changing role.

What can a Super Admin do?
The Super Admin has exactly the same privileges as the team owner regarding user management and team settings management (listed below), except for payment. The Super Admin will be able to see the team members list, sessions list and configure the following settings for any team member except the owner.
User Management:
Assign user group
Access permission
Change role
Change display name
Reset password
Disable user
Delete user
Team Setting Management:
Manage all the items on the team settings page, except for payment