The Control Bar is where advanced in-session controls can be found. To bring up the Control Bar shown below, please tap on the '<' button (located in the lower right corner by default).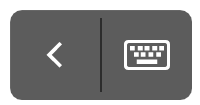 These 6 menu buttons are explained below, in order of their appearance on the menu (from left to right).



Minimize - minimize remote session
Disconnect - disconnect the remote session

Adjust session frame rate
Lock Orientation
Show all monitors and switch between monitors

Change between Touch Mode and Mouse Mode. Touch Mode responds to gestures and taps on the screen, while Mouse Mouse provides an on-screen pointer, left-click, and right-click
Show Remote Cursor - show the remote computer's cursor
Arrow Keys - show on-screen arrow keys
Scrollbar - show an on-screen scrollbar
Show Hints - Show Hints for the app controls

Lock Toolbar - lock the control menu bar in place
Widgets Layout
Blank Screen
Lock Keyboard and Mouse
Past Clipboard as Keystrokes
Ctrl-Alt-Del


Keyboard - Enables the virtual keyboard or bluetooth keyboard (if connected).