These are in session controls for iOS clients. The "Controls" menu is where advanced in-session controls can be found. To bring up the "Controls" menu shown below, please perform either of the following gestures:
1. Three-finger tap on iPad screen during a connected session.
2. Tap on the '<' button located on lower right corner during a connected session.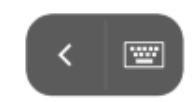 Disconnect
Disconnects the current session and goes back to the list of computers.
Switch Display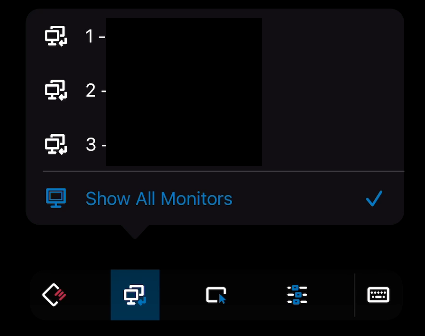 Provides switching to and back from your secondary monitor if your computer has more than one display/monitor attached.
Show All Monitors (More info: Multi-Monitor)
In-session Control Settings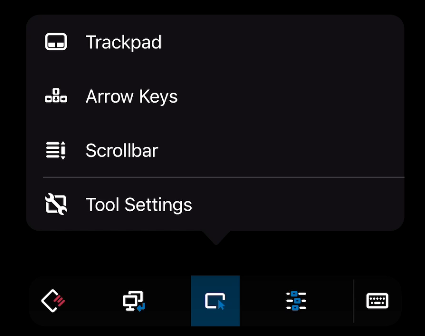 Trackpad mode

Allows the user to perform gestures that simulate mouse manipulations with left-click or right-click. It's good to open the hidden bar like Windows Task Bar or Mac Task Bar.

Arrow Keys

Provides an arrow pad for ease of operation on applications.

Scroll Bar

Provides scroll bar for ease of scrolling

Tool Settings

Additional movement and layout settings
Additional Features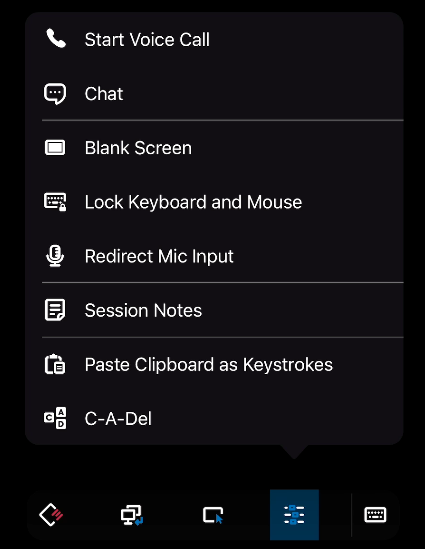 Start Voice Call (Available on Splashtop SOS+ / Splashtop Enterprise Technician Licensing)

Voice call your computer to provide additional support to someone on the computer.

Chat

Chat with anyone that's currently using the computer

Blank Screen

Blank/black out the screen of the computer.

Lock Keyboard and Mouse

Lock the keyboard and mouse of the computer.

Redirect Mic Input (Available on Splashtop Enterprise)

Utilize microphone from iOS device when in session.

Session Notes

Session notes are notes that describe what occurred during a remote session.

Paste Clipboard as Keystrokes

This function translates the copied text into keystrokes.

CAD/COE

Ctrl + Alt + Del

Command + Option + Escape
Keyboard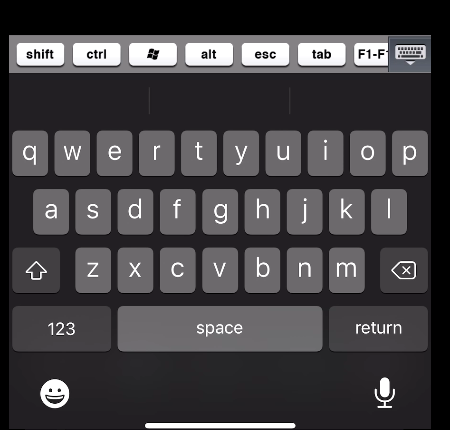 Opens the virtual keyboard or blue-tooth keyboard if connected.
Control Bar Off (Tap anywhere on screen)
Hides the Controls menu bar.
NOTE: The iPad, with iOS 4.3 or later, is capable of configuring the "Side Switch" to either Lock Rotation or Mute.
Need to navigate the Splashtop Business app?
More info here: Navigating the Splashtop Business app for iOS