Note: We list detailed supported and unsupported shortcuts during a Mac to Mac remote session in this article, so it is a long list. We suggest you could use Search function (press control+f) at this page to find the shortcuts you need then confirm they are supported or not.
You could also refer to Apple official page to know what these shortcuts are for:
https://support.apple.com/en-us/HT201236
Tip: Some system shortcuts are restricted to the local computer by default (No below). You can try adding Accessibility setting for Splashtop Business, restart the app and establish a session. Most of the shortcuts will now go to the remote computer when the Splashtop window is in focus.
(System Preferences -> Security & Privacy -> Accessibility)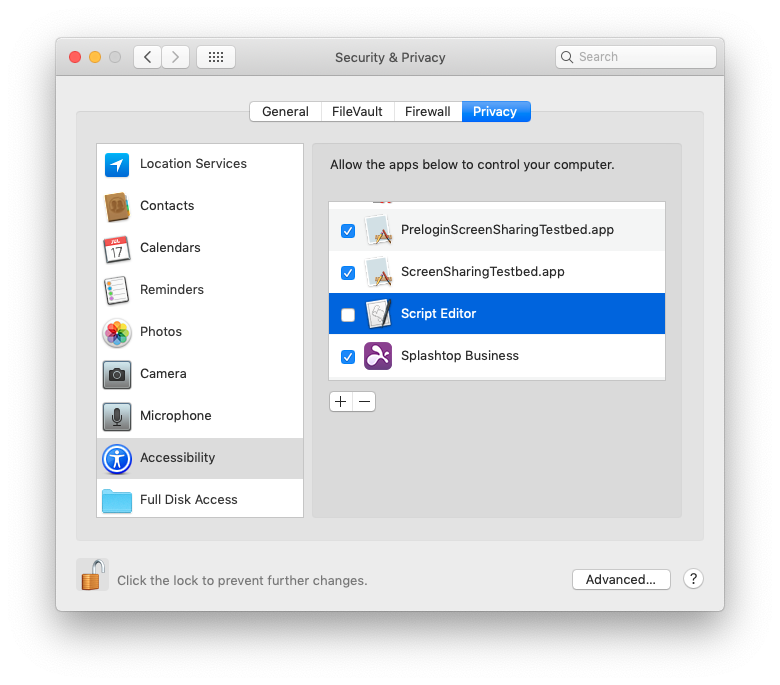 Shortcuts
Cut, copy and paste
Command-C :

Yes

Command-X :

Yes

Command-V :

Yes
Taking screenshots
Command-Shift-3 :

No

Command-Shift-Control-3:

No

Command-Shift-4 :

No

Command-Shift-Control-4 :

No
Sleep, shut down, and log out shortcuts
All power button related keys :

No

Command-Shift-Q :

No

Command-Shift-Option-Q :

No
App Shortcuts
Command-A :

Yes

Command-Z :

Yes

Command-Shift-Z :

Yes

Command-Space bar :

No

Command-Option-Space bar :

No

Command-Tab :

No

Option-Media Eject :

No

Command-Brightness down (F1) :

No

Command-Brightness up (F2) :

No

Command-Mission Control (F3) :

No

Command-F5 :

No

Option-Brightness (F2) :

No

Option-Mission Control (F3) :

No

Option-Volume key (F12) :

No

Command-Minus (–) :

Yes

Command-Colon (:) :

Yes

Command-Semicolon (;) :

Yes

Command-Comma (,) :

Yes

Command-Question Mark (?) :

No

Command-plus (+) or Command-Shift-Equals (=) :

Yes

Command-Option-D :

No

Command-Control-D :

No

Command-D :

Yes

Command-Delete :

Yes

Command-E :

Yes

Command-F :

Yes

Command-Option-F :

Yes

Command-G :

Yes

Command-Shift-G :

Yes

Command-H :

No

Command-Option-H :

No

Command-Option-I :

Yes

Command-M :

No

Command-Option-M :

No

Command-N :

Yes

Command-O :

Yes

Command-P :

Yes

Command-Shift-P :

Yes

Command-Q :

Yes

Command-S :

Yes

Command-Shift-S :

Yes

Command-Option-T :

Yes

Command-W :

Yes

Command-Option-W :

Yes

Command-Z :

Yes

Command-Shift-Z :

Yes

Command-Option-esc :

No

Command-Shift-Option-Esc (hold for three seconds) :

No
Working with Text
Command-B :

Yes

Command-I :

Yes

Command-U :

Yes

Command-T :

Yes

fn-Delete :

Yes

fn-Arrow keys (Up, Down, Right & Left) :

Yes

Command-Arrow keys (Up, Down, Right & Left) :

Yes

Option-Delete :

Yes

Option-Arrow keys (Right and Left) :

Yes

Command-Shift-Arrow keys (Up, Down, Right & Left) :

Yes

Shift-Arrow keys (Up, Down, Right & Left) :

Yes

Shift-Option-Arrow keys (Up, Down, Right & Left) :

Yes

Control-A :

Yes

Control-B :

Yes

Control-D :

Yes

Control-E :

Yes

Control-F :

Yes

Control-H :

Yes

Control-K :

Yes

Control-L :

Yes

Control-N :

Yes

Control-O :

Yes

Control-P :

Yes

Control-T :

Yes

Control-V :

Yes

Command-{ :

Yes

Command-} :

Yes

Command-Option-C :

No

Command-Option-V :

No

Command-Shift-Option-V :

No

Command-Control-V :

No
Accessibility
Command-Option-F5 :

No

Command-F5 or fn-Command-F5 :

No

Option-Control-F8 or fn-Option-Control-F8 :

No

Command-Option-8 :

No

Command-Option-Plus (+) :

No

Command-Option-Minus (–) :

No

Command-Option-Control-8 :

No

Command-Option-Control-Comma (,) :

No

Command-Option-Control-Period (.) :

No
Full keyboard access
Tab :

Yes

Shift-Tab :

Yes

Control-Tab :

Yes

Shift-Control-Tab :

Yes

Arrow keys :

Yes

Control-Arrow keys :

Yes

Space bar :

Yes

Return or Enter :

Yes

Esc :

Yes

Shift-Control-F6 :

No

Control-F7 :

No

Control-F8 :

No

Command-Accent (`) :

No

Command-Shift-Accent (`) :

No

Command-Option-Accent (`) :

No
Finder shortcut
Command-A :

Yes

Command-Option-A :

Yes

Command-C :

Yes

Command-D :

Yes

Command-E :

Yes

Command-F :

Yes

Command-I :

Yes

Command-Shift-C :

Yes

Command-Shift-D :

Yes

Command-Shift-F :

Yes

Command-Shift-G :

Yes

Command-Shift-H :

Yes

Command-Shift-I :

Yes

Command-Shift-K :

Yes

Command-Shift-L :

Yes

Command-Shift-O :

Yes

Command-Shift-R :

Yes

Command-Shift-U :

Yes

Command-Control-T :

Yes

Command-Option-I :

Yes

Command-Control-I :

Yes

Command-Option-P :

Yes

Command-Option-S :

Yes

Command-forward slash (/) :

Yes

Command-J :

Yes

Command-K :

Yes

Command-L :

Yes

Command-N :

Yes

Command-Shift-N :

Yes

Command-Option-N :

Yes

Command-O :

Yes

Command-R :

Yes

Command-T :

Yes

Command-Shift-T :

Yes

Command-Option-T :

Yes

Command-V :

Yes

Command-Option-V :

Yes

Command-Option-Y :

Yes

Command-1 :

Yes

Command-2 :

Yes

Command-3 :

Yes

Command-4 :

Yes

Command-Comma (,) :

No

Command-Left Bracket ([) :

Yes

Command-Right Bracket (]) :

Yes

Command-Up Arrow :

Yes

Command-Control-Up Arrow :

Yes

Command-Down Arrow :

Yes

Right Arrow (in List view) :

Yes

Left Arrow (in List view) :

Yes

Option-click the disclosure triangle (in List view) :

Yes

Option–double-click :

Yes

Command–double-click :

Yes

Command-click the window title :

Yes

Command-Delete :

Yes

Command-Shift-Delete :

Yes

Command-Shift-Option-Delete :

Yes

Space bar (or Command-Y) :

Yes

Command key while dragging :

Yes

Option key while dragging :

Yes

Command-Option key combination while dragging :

Yes