If you have set up Two-Factor authentication on your Splashtop account, you will be asked to enter a 6-digit security code from your mobile device whenever you log in from a new device. This code will change every 30 seconds.
If you do not have access to the mobile device to enter in the security code, or have deleted the authenticator app, changed phones, etc. - you must use a recovery code to gain access to your Splashtop account. The list of recovery codes are provided to you when you set up Two-Factor authentication.
Team owners and admins cannot reset or turn off 2FA for their members.
If you do not have your recovery codes, please open a ticket and include your Splashtop Account email and the phone number you used when you first registered 2 factor authentication. After verifying the phone number, we will send you the recovery codes.
First, log into https://my.splashtop.com/ and click "Use an emergency recovery code instead".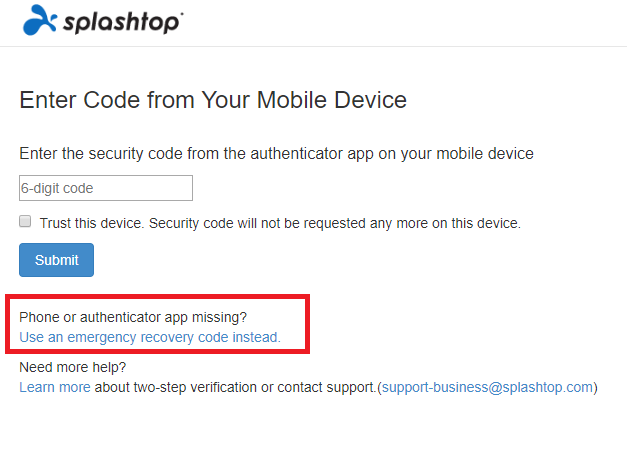 Once you enter the emergency recovery code, you will be able to log into your account on our website. To reset Two-Factor authentication, please click your name in the top right corner and click on Account Info. From there click (change) next to Two-Step Verification to turn it off, and once it's turned off, please turn it back on to reset Two-Step Verification.