This article will help you get re-setup with with Two-step verification, if you lost your phone, got a new phone, or just need to re-setup 2FA (two factor authorization).

The next step depends if you saved your recovery codes when you initially setup Two-step verification.
If you don't have recovery codes ⤸
Please send us a SMS with your Splashtop account email address to +1 (408) 676-3505 from the phone number used when you initially set up Two-step verification. After verifying your phone number you will receive a text back with the Recovery codes needed to gain access to account and re-setup two-step verification. Once you have your Recovery codes follow steps below:
If you have recovery codes ⤸
Please head over to my.splashtop.com and attempt to sign in. When asked for your two step code, click the link Use an emergency recovery codes instead below the blue Submit button.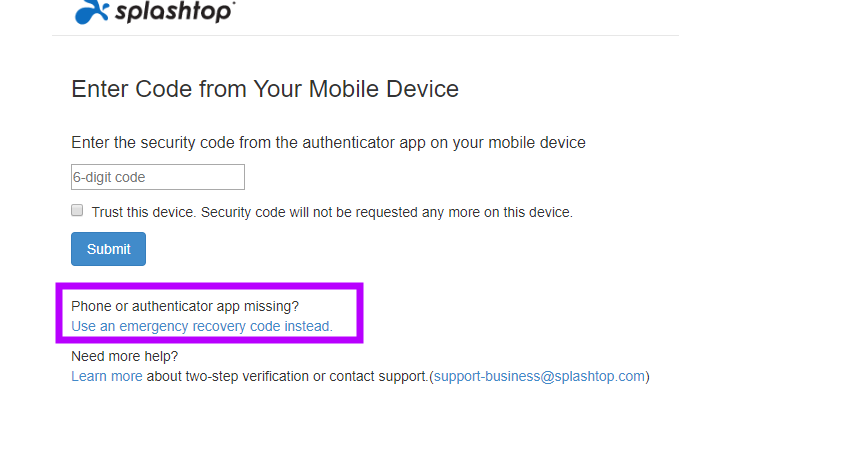 Once logged into your account. You will click your name at the top and then choose Account Info from drop-down menu, or click here: https://my.splashtop.com/account_info/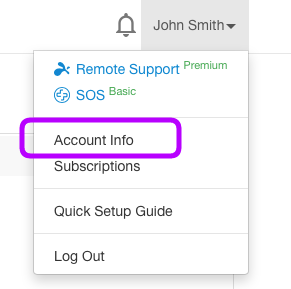 Now, look for Two-step verification section at the bottom of the page, then click the change link to toggle it off. Once off click the change link again to turn it on.
Now, you can begin the Two-step setup process and can scan QR code with your authenticator app on your phone. If you need further instructions see this in-depth guide on setting up Two-step verification.