Introduction
Smart Actions is a premium feature available within both Splashtop Remote Support and Splashtop Enterprise, accessible in the Alert Profiles tab. Once enabled, this feature allows you to oversee your alert profiles, and when the designated alert within the profile is triggered, the Smart Action will commence its execution.

Log in to my.splashtop.com/my.splashtop.eu and select Management > Alert Profiles.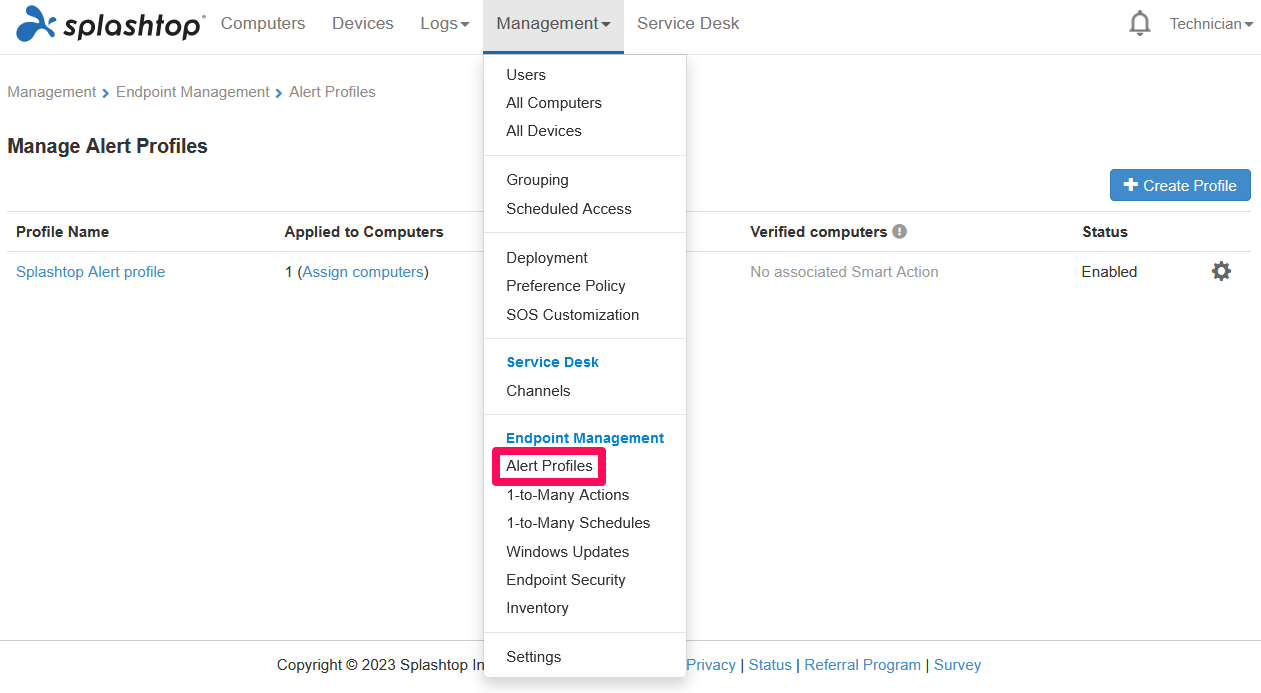 To initiate the set-up of "Smart Action", s
elect the start icon associated with the profile you want to configure for Smart Actions.
When a user first enables Smart Action, they need to choose an operating system: either Windows (the default option) or Mac.

*Once you've made a selection for the operating system, it cannot be altered.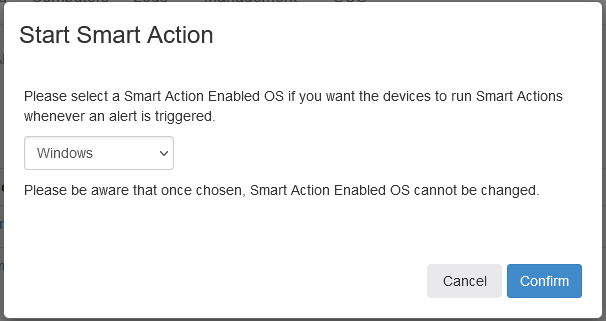 The chosen operating system will be displayed next to the Smart Action switch.

Following the OS selection, the user will be directed to the corresponding Alert detail page, providing the opportunity to further associate Smart Actions with each individual alert.
Make sure that the option "Also trigger smart action when alert is reported" is ticked, and click "Save" button to save the settings.
*Computer Offline alert can't be associated with Smart Actions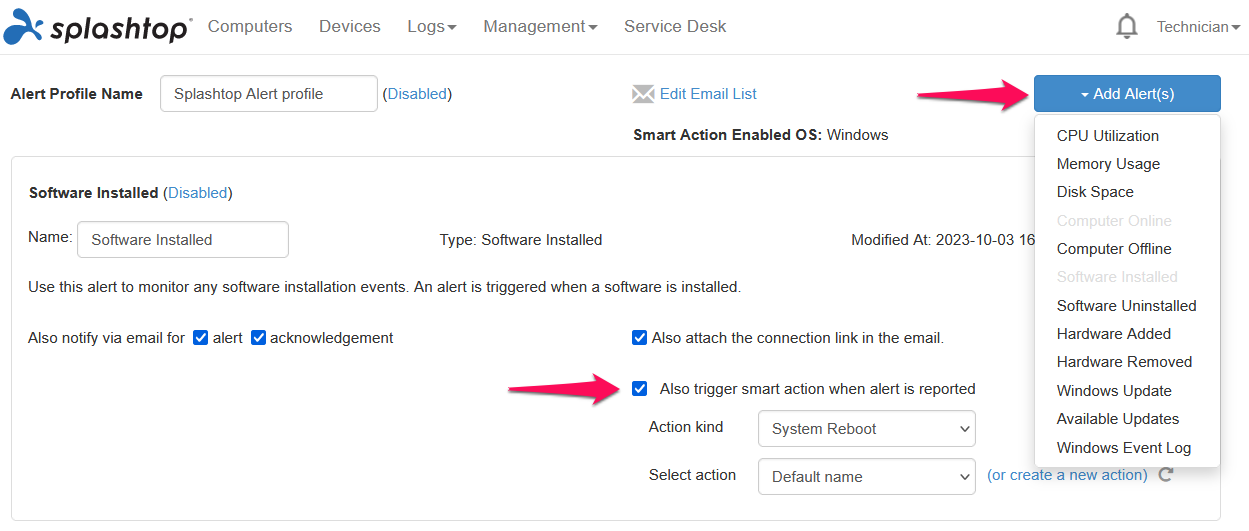 If a user attempts to save an Alert Profile with Smart Action selected but without choosing the "Select action," a general error message will appear upon clicking the "Save" button.



A user has the option to generate a new action by clicking on "or create a new action," which will open a new tab. Upon successfully saving or canceling the action, this tab will be closed.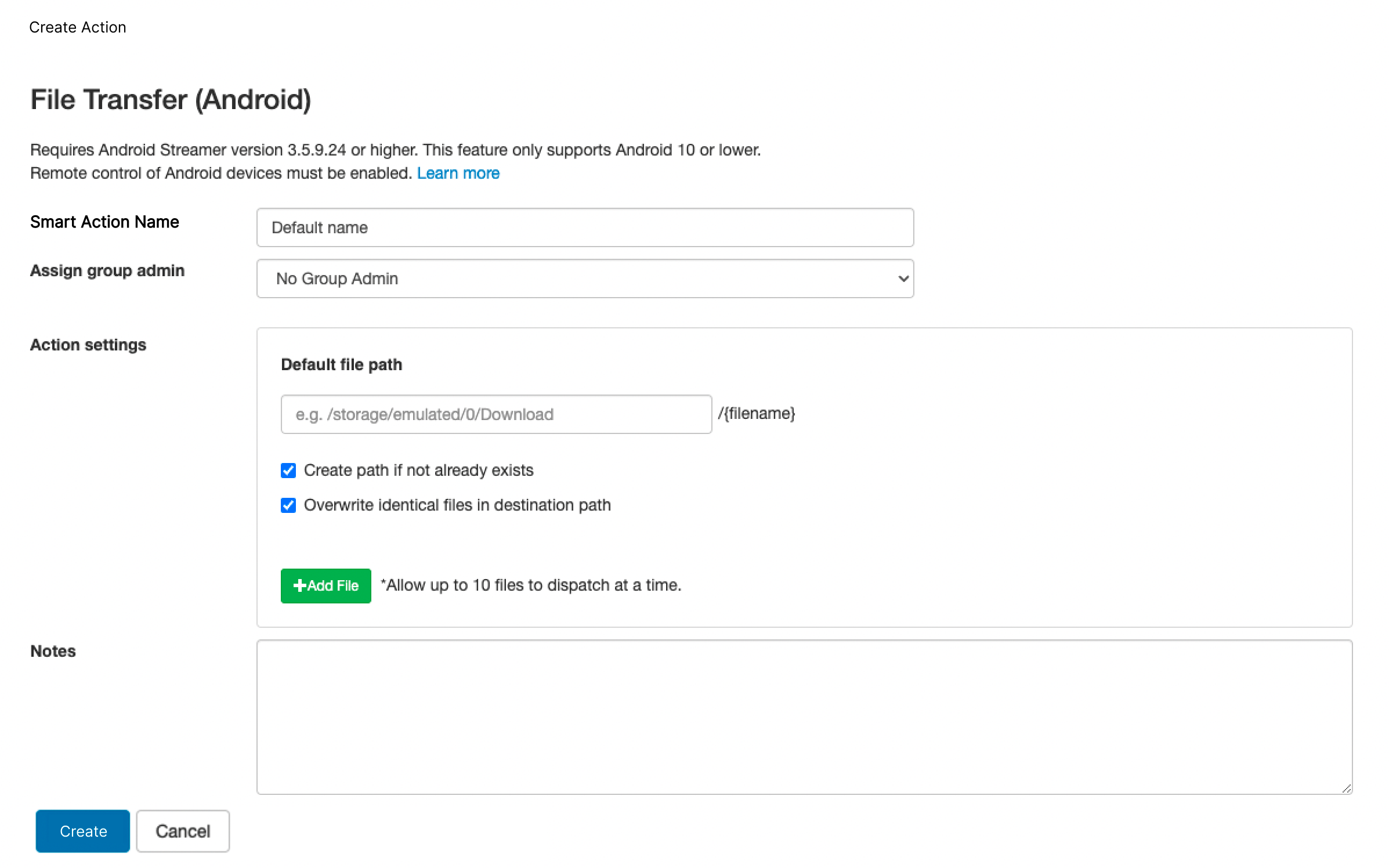 The pop-up below will appear to notify the user that an action has been created successfully and that they need to refresh the alert profile page to select the new action. After clicking OK, the "create action" page will be closed.



When a user clicks on the refresh button on the Alert profile page, the action list will be refreshed, allowing the user to then choose a newly created action.


After assigning alert types to each profile, the user must verify computers with credentials if they haven't already done so to enable the execution of Smart Actions.
*The computer list will exclusively display those with the same operating system as the "Smart Action Enabled OS" specified in the corresponding alert profile, and Streamers must be at version 3.6.0.0 or higher.
That's it, you're all set!

Where to find the logs history of your Smart Actions?
When a Smart Action is triggered, users can locate the relevant details within the Log > Alerts section.
The columns "Smart Action Name" and "Smart Action Details" are consistently visible and are situated following the "Solved At" column. This arrangement enables teams to assess whether the Smart Action accurately addressed the alert.