File transfer is available in select Splashtop Business services! You can transfer files and folders, in either direction, between Windows, Mac, and Android.
System Requirements
Version 2.6.5.2 or newer of the Splashtop Streamer and Splashtop Business app for Windows/Mac
Version 2.6.8.0 or newer of the Splashtop Streamer for Linux
Video
Steps to transfer files
1. Install Splashtop Streamer and Splashtop Business app
File transfer is supported in version 2.6.5.2 or newer of the Splashtop Streamer and Splashtop Business app.
You can download the latest versions from www.splashtop.com/download.
Note: File transfer is available from Windows, Mac, Linux, and Android.
Update: Version 3.3.0.0 includes the following improvements:
"drag and drop" functionality for file transfer (Requires: Windows XP+, Mac OS 10.12+)
"copy and paste" functionality for file transfer (Between Windows computers only)
Improved transfer speeds
Off-session file transfer* (Requires: Remote Support Plus/Premium, Business Access Pro/ Solo/Performance, SOS+, SOS Teams, or Splashtop Enterprise)

*Requires user to input valid Windows/Mac/Linux login credentials for the remote computer.
2. Connect to the target computer
The file transfer function is invoked from within a session. Please first connect to the computer that you'd like to transfer files to or from.
3. Launch the file manager from the control bar.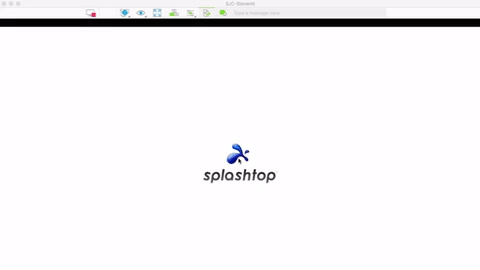 Use the file manager interface to transfer files.
You can upload files from the local computer to the remote computer, download files from the remote computer, organize files, and more.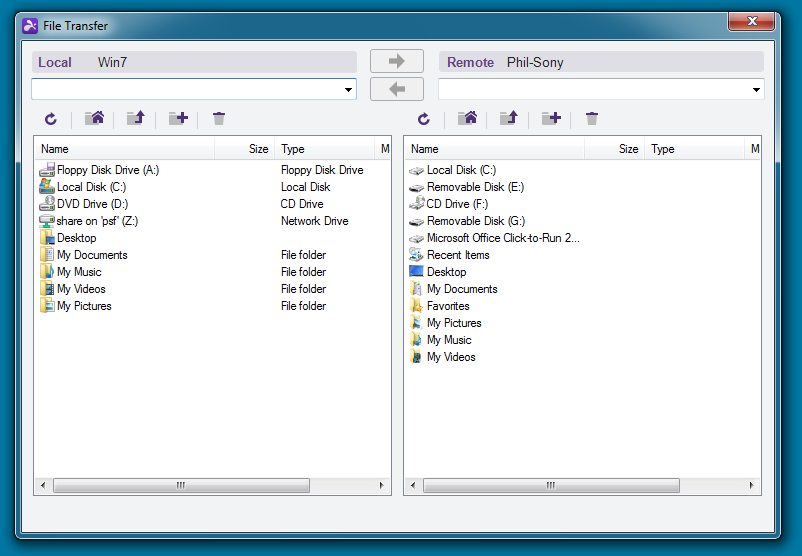 4. Close the file manager to return to remote desktop control.
Details
In the file manager, use the left and right arrows to initiate a file transfer, or drag a file or folder from one side to the other.
Deleting files that are locked by Windows (e.g. system files or privileged files that require UAC authentication) does not work.
The maximum size of the file that can be transferred is 64GB (with v3.2.6.0).
Logging
Admins can see a record of all file transfer activities by logging into the web console and going to Logs > File Transfer.
Disabling file transfer
File transfer can be disabled via the web console if you do not want anyone on your team to be able to transfer files.
As with other IT policies, only the team owner can perform this configuration. By default, file transfer is enabled.
Just log into my.splashtop.com as the team owner then navigate to Management > Settings.