Splashtop Streamer and Splashtop SOS support remote control Samsung devices. Here are the instructions to enable remote control on Samsung devices. 
1. Make sure you've updated Splashtop SOS and Splashtop Streamer to latest version on Play Store
Splashtop SOS: v1.5.6.0 or up
Splashtop Streamer: v1.5.6.0 or up
2. Make sure your Samsung device is supported
Knox version 2.7.1 or up is required
https://www.samsungknox.com/en/knox-platform/supported-devices
3. Install Splashtop Add-on: Samsung from Play Store
https://play.google.com/store/apps/details?id=com.splashtop.streamer.addon.knox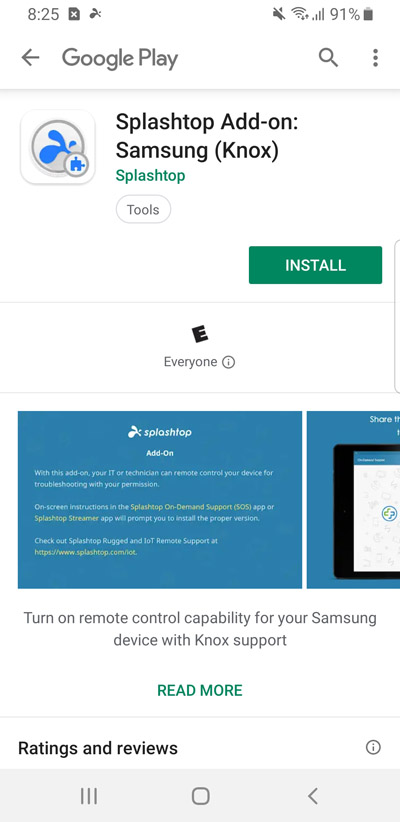 4. From Splashtop SOS or Splashtop Streamer's main screen, tap "CONFIGURE" to configure the add-on, or directly tap Splashtop Add-on: Samsung app to configure
5.Tap GRANT SYSTEM PRIVILEGE to enable the add-on
Notice: 
Device Admin required to make it work
The device should be able to access Internet to enable Knox license
Once you've done the above steps, you'll be able to connect to the Samsung device with remote control.