You can deploy Splashtop Streamer to Macs via Kaseya MDM. Here are the instructions below:
1. Download the attached files below.
2. Log into Kaseya and select Agent Procedures > Manage Procedures > Schedule / Create > Right click "Shared" folder > Create New Folder > Name the folder "Splashtop Deploy"

3. Right click the newly made "Splashtop Deploy" folder > Manage Files > Shared Files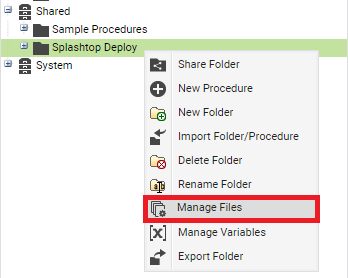 4. Create a new folder called "Splashtop" and upload "deploy_splashtop_streamer.sh" and "SplashtopStreamer.dmg" into the newly created "Splashtop" folder.
(You can also get the latest version of Mac Streamer on my.splashtop.com/team_deployment. Do note you will need to rename the .dmg to "SplashtopStreamer.dmg" before uploading)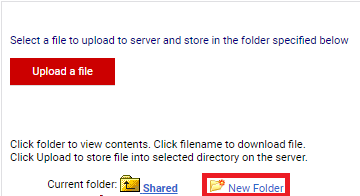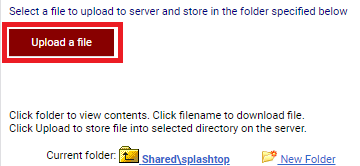 5. Go back and right click the "Shared" folder again and select "Import Folder / Procedures"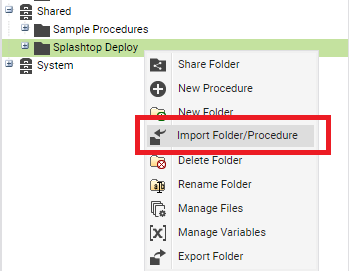 6. Select the upload icon, select "Procedure Splashtop - Deploy OS X with Prompt", and save

7. Select newly created procedure and select which computers to deploy to and select Run Now

8. Enter your deployment code from my.splashtop.com/team_deployment and select "Submit"