For remote access usage, you may want to blank the host/streamer computer monitor so others cannot see what is happening when you connect with Splashtop.
Toolbar control
You can dynamically enable/disable a blank screen from the new toolbar "blank screen" option.

Windows Computers
From version 3.3.2.0 onwards
First, open Splashtop Streamer from the Start Menu on Windows (All Programs -> Splashtop Remote -> Splashtop Streamer). Then click on the "Security" tab.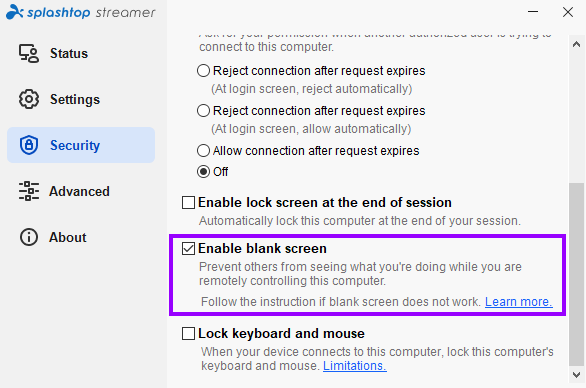 Mac Computers
On Mac, open Splashtop Streamer from the Applications folder or from the dock. Then click on the "Security" tab.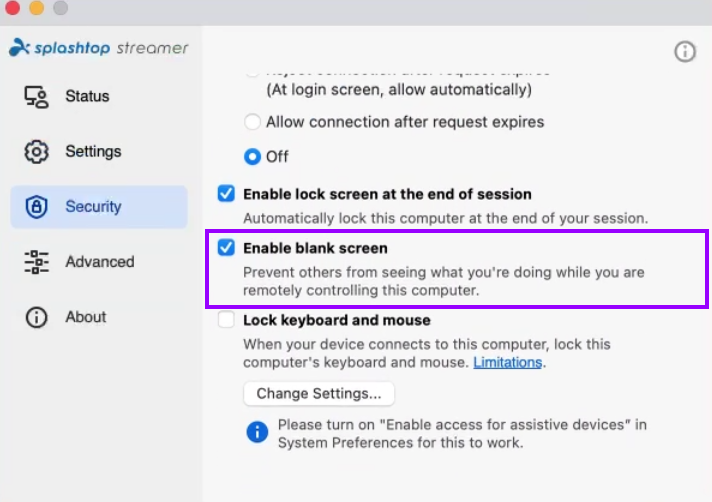 Limitation: The mouse shows on the host/streamer computer.


To replace the blank screen with a custom graphic/logo, please read the following article:
Blank Screen Graphic/Logo
Note:
1. Video driver update on Windows.
For NV: http://www.nvidia.com/Download/index.aspx
For AMD: http://support.amd.com/en-us/download
For Intel: http://www.intel.com/content/www/us/en/support/detect.html
2. BIOS update for Lenovo ThinkCentre M700 10GS.