New: version 3.1.8.0 and newer (both Business app and Streamer)
You can dynamically enable/disable blank screen, but please do install the DPMS driver below first.  From the new toolbar, see the blank screen option.  

Windows Computers
For remote access usage, you may want to blank the host/streamer computer monitor so others cannot see what is happening when you connect with Splashtop.
First open Splashtop Streamer from the Start Menu on Windows (All Programs -> Splashtop Remote -> Splashtop Streamer).  Then click on the "Security" tab.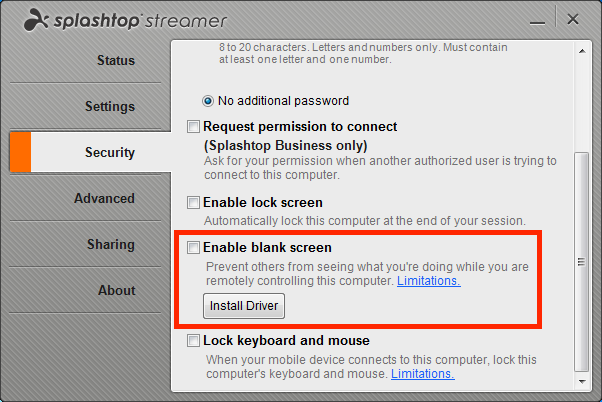 Windows 7 and newer OS
Please click on the "Install Driver" button to install a driver that will basically turn off the monitor so nothing is shown on the host/streamer computer.  The button changes wording to "Uninstall Driver". (May require a reboot to complete the driver install)
Limitations: 
DPMS BIOS/video driver support required (Surface 3 may not support) (See note below)
May not be able to adjust screen brightness - uninstall driver to resolve
Windows WDDM 2.2 and higher does not work with the DMPS driver (Try our workaround)

Windows Vista and XP
The driver is not supported and there are known default blank screen limitations.  
Limitations: 
UAC (User Account Control) dialog nullifies the blank screen when it pops up
Changing resolution, switching monitors, or switching desktops shows the screen on the host/streamer computer during the transition for a couple seconds.
Mac Computers
On Mac, open Splashtop Streamer from the Applications folder or from the dock.  Then click on the "Security" tab.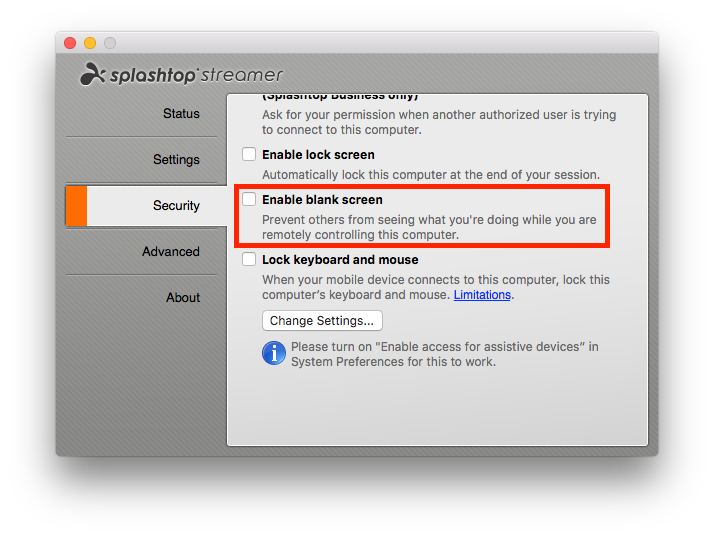 Limitation: The mouse shows on host/streamer computer.
Note:
1. Video driver update on Windows.
For NV: http://www.nvidia.com/Download/index.aspx
For AMD: http://support.amd.com/en-us/download
For Intel: http://www.intel.com/content/www/us/en/support/detect.html
2. BIOS update for Lenovo ThinkCentre M700 10GS.
http://pcsupport.lenovo.com/jp/ja/products/desktops-and-all-in-ones/thinkcentre-m-series-desktops/thinkcentre-m700/downloads/ds111845