By default, Splashtop On-Demand Support (SOS) connects to a computer with privileges of the account that is currently logged in on that computer. In cases where you may need admin privileges, SOS also provides the option to connect as admin with Windows Administrator rights.
Note: Requires Windows or Mac Business client 3.1.4.0 or newer. You can download the latest version here.
How to connect as admin
1. On the computer that you are connecting to, navigate to sos.splashtop.com. Download and run the file to generate a 9-digit code.
2. On the computer that you are connecting from, download the Business application. Open the app and start an SOS session by clicking SOS > Connect to User's Device.
3. Enter in the 9-digit code and check the box labeled Connect as admin.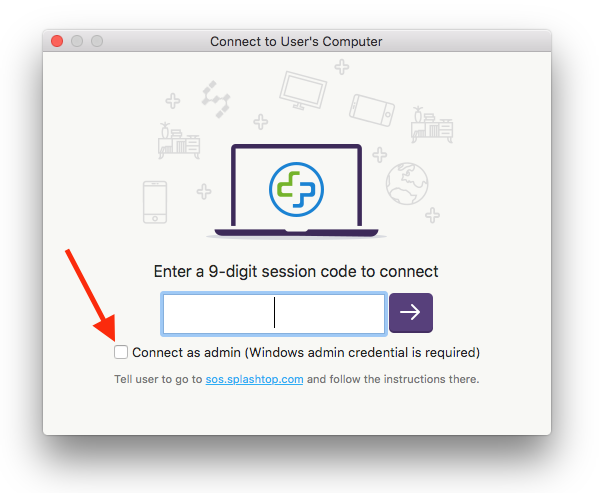 4. Enter the Mac or Windows admin credentials. Note that the username must be the actual ID (john.doe@outlook.com), rather than the displayed name (John Doe). Click on More if a domain is needed as well.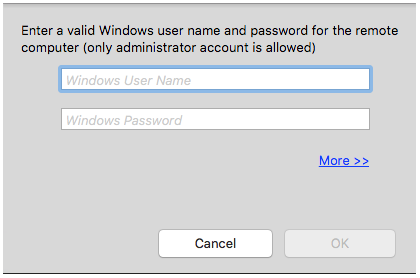 5. If the end user is logged in as a non-admin account, they must click Yes on the User Access Control (UAC) prompt.
What if the end user does not want to share their credentials?
1. The end user can open the Splashtop SOS application by running it as administrator. After they enter their admin credentials and launch the app, you can connect in with admin-level control.

2. After connecting, any actions requiring admin privilege will still bring up the UAC prompt for admin credentials. The end user can enter the credentials, and you can proceed.
COMING SOON:
Elevate permission within the SOS session, and allow either technician or end-customer to input credentials to elevate. (ETA Q1 2020)