##Please note that SOS integration with Datto/Autotask PSA is currently unavailable due to internal system updates. We apologize for any trouble this may have brought on you, and we thank you for your patience and continued support.##
Autotask customers can quickly and seamlessly launch Splashtop SOS sessions as they assist customers from the Autotask PSA interface directly. Connection details will automatically be passed to the ticketing system, as well as file transfer information during the session.
For a limited time, the integration is included in the current SOS services (excludes SOS lite and legacy services).
Setup
Download and install these versions of Splashtop Business app [3.1.7.3 or later] (purple icon)

Windows app
Mac app

Log in to the Splashtop Business app with your account credentials
Configure System Settings in PSA

Expand Site Setup > Dropdown "Allow password variable in LiveLinks" this should be set to Form Post Only

Add plug-in into Autotask

Log in at www.autotask.com
Go to ADMIN > Extensions & Integrations > AUTOTASK ADD-ONS > LiveLinks Designer > Explore the AXN LiveLinks Catalog


Search for "Splashtop". Right click on Splashtop SOS and select "Install LiveLink".
Set the LiveLink as active and publish to the correct resources.


"Activate" and "Save and Publish"


After Save & Publish you need to decide who to publish it to. Select a security level, department or mark individual resources.

Click on the "Application" tab, then click on the Splashtop SOS application. Make sure it is "Active" and set for "User-Level"

Then, click on your name at the top right of the page, click on "Single Sign-on", and update Splashtop SOS credentials with your AUTOTASK credentials.

Usage steps:
In Autotask PSA, open a ticket.
Click on Livelinks->Splashtop SOS

Note: Please allow popups as the Splashtop SOS window opens in a new tab*


Tell your end-user to go to sos.splashtop.com / sos.splashtop.eu and run the downloaded program, then give you the 9-digit code**
After clicking on "Connect", you may receive a popup requesting you to allow opening the Splashtop Business app which makes the actual connection.

When done with the remote access, close the connection and details of the session are automatically uploaded to the ticket, including file transfer information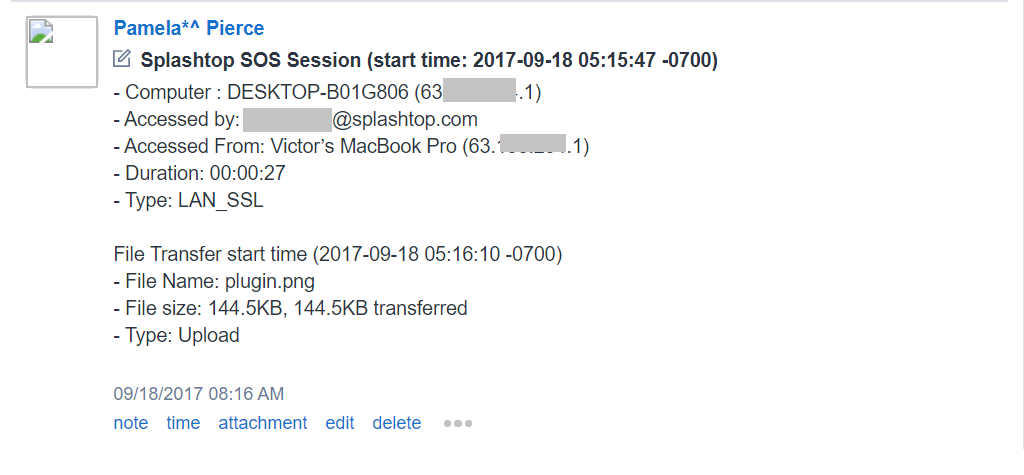 * Users on the EU stack will need to change the base URL to https://my.splashtop.eu/integration/autotask
** For more information on the appropriate link to give your users, please refer to this guide